Only 48 of the 949 available seats remain to be filled in the local authority elections.
The two Government parties have suffered losses, while Fianna Fáil and Sinn Féin are making gains.
Independents and smaller parties received the greatest level of support from voters.
Fine Gael's support is down by more than a third since the General Election.
It could now be overtaken by Fianna Fáil as the biggest party at council level.
Labour has lost scores of councillors and now has no representatives on Cork City Council.
Support has fallen to 7% for the party and already some backbenchers want to discuss the leadership question.
The big winners were Independents and small parties whose combined support stands at 28%.
Sinn Féin too made significant gains. It looks set to treble its number of seats and will be the biggest party on Dublin City and South Dublin Councils.
Taoiseach Enda Kenny said people's concerns and frustrations had been expressed at the ballot box.
He predicted the next General Election would be "a humdinger" but warned there would not be a pot of gold in the next budget.
Attention this evening turned to the European Election counts and Sinn Féin's Lynn Boylan was the first to secure an MEP seat.
Fine Gael could win four seats and Sinn Féin is on course to return three MEPs.
In Midlands North West, Independent Luke Ming Flanagan looks set to be elected.
18 councils have completed their counts so far, which are as follows: Carlow, Cavan, Clare, Cork City, Cork County, Dublin City, Galway City, Galway County, Kildare, Laois, Leitrim, Roscommon, South Dublin, Sligo, Tipperary, Waterford City & County, Westmeath and Wexford. 
Independents and Others hold 226 seats having received the highest overall first preference vote of 28.3%.
Fianna Fáil currently leads, with 256 seats so far, with a first preference vote of 25.3%.
Sinn Féin at present holds 151 seats nationwide, having received 15.2% of first preference votes.
Fine Gael holds 218 seats and Labour 50.
Fine Gael received the third-highest first preference vote of 24%, while Labour received 7.2% of first-preferences.
Turnout nationally stood at 51.6%.
Look back at this afternoon's TV Election Special here
Elsewhere, Independent candidate Margaret Gormley has topped the poll in Ballymote-Tubercurry, maintaining her record of topping every poll since 1991.
A number of parties have also seen fresh blood emerge, with 21-year-old Stephen Cunningham of Sinn Féin and 23-year-old Fintan Phelan of Fianna Fáil among the youngest candidates to be elected.
Fianna Fáil Councillor Adam Gary Wyse, who is 19, has retained his seat on Waterford City and County Council for the Waterford City East LEA.
He took over the seat of his father; who died suddenly last year at the age of 50. 
Former Mayor of Naas re-elected
Controversial former Mayor of Naas Darren Scully has also been re-elected.
Mr Scully lost the Fine Gael party whip after he made racist remarks about constituents in November 2011.
Speaking on local radio he said that he would no longer represent ''black Africans'' in his community because of ''aggression'' he received when dealing with them.
Mr Scully was restored to the party in November 2013 and tonight was elected on the fifth count in the Naas Electoral Area.
Boxer Kenneth Egan was elected on the eighth count in the Clondalkin ward in South Dublin County Council.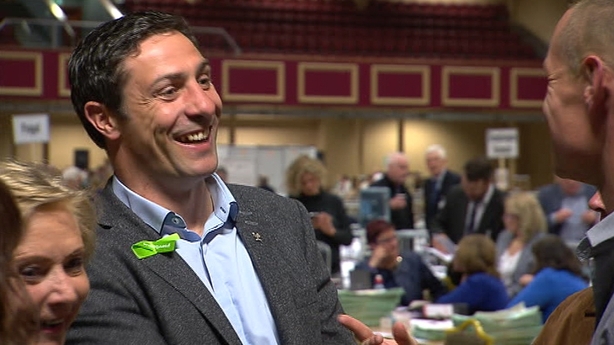 Meanwhile, the first Anti-Austerity Alliance candidate in Limerick has been elected to the new local authority.
Cian Prendiville was elected following the ninth county in the Limerick City North electoral area where he secured 9% of first preference votes.
He has taken the third seat in the six-seater ward and came in behind Fine Gael Councillor Michael Hourigan who was also elected in the ninth count.
Speaking after his election, Mr Prendiville, a 24-year-old UL graduate, said: "I think it's clear that the people of Limerick and the people of Ireland have sent a clear anti-water tax and anti austerity message to this government.
 "If Labour refuse to hear it and keep on going with the water charges we will have to move from a protest vote to a protest movement," he warned.