Socialist Party candidate Ruth Coppinger has taken the seat in the Dublin West by-election.
As the counting of votes continues in the Local elections over 200 seats have been filled out of 949.
Sinn Féin's Paul Donnelly was excluded in the Dublin West by-election after the fifth count.
Mr Donnelly got knocked out on foot of David Hall's transfers.
Ms Coppinger won the Dáil seat with 12,334 votes and was deemed elected without reaching the quota.
Fianna Fáil's David McGuinness came in behind Ms Coppinger.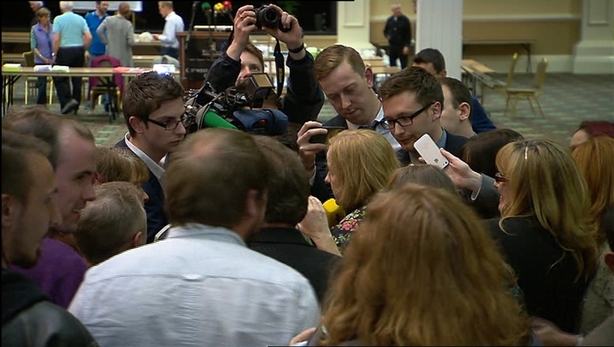 Socialist Party number crunchers had been confident that Ms Coppinger would take this Dáil seat.
Mary Hanafin elected on first count 
An emotional Mary Hanafin broke down as she was elected on the first count along with Fine Gael's Marie Baker in the Blackrock ward of Dún Laoghaire–Rathdown.
She said it had been a very personal and emotional campaign.
When asked if she had done the right thing, Ms Hanafin said it showed you can not pick me up and put me down.
She said she was delighted her running mate Kate Feeney looks set to also take a seat.  
Ms Hanafin said Micheál Martin had acknowledged that it had not been handled well.  
She was elected on 1501 votes behind Marie Baker of Fine Gael.
Ms Feeney is on 1288 votes and is expected to be elected shortly. The quota is 1485.
In what has been a good day for the Green Party, Patrick Costello has topped the poll in the Rathgar-Rathmines local electoral area in the Dublin Cithy Council election.
He was elected in the fifth county with 1,647 first preference votes. 
In the same electoral area, Dublin's Lord Mayor Oisín Quinn appears to be in grave danger of losing his council seat.
The Labour councillor, garnered 820 first preference votes.
It now looks unlikely that councillor Quinn will win of the six seats in the area.
Earlier, an RTÉ exit polls showed that Independent and other candidates have won the highest percentage of the vote in yesterday's local elections, while Sinn Féin appears to be on course to win an MEP seat in Dublin.
The local election poll, which was carried out by Behaviour and Attitudes, took the views of more than 3,000 voters and has a national margin of error of less than 2%.
The poll found Independents and others received 27% of the national vote in the European elections and 28% in the locals.
The Labour Party vote appears to have slumped from 19% in the last General Election to 7% in the locals and 6% in the Europeans.
Fine Gael's 36% support in 2011 fell to 24% in the local elections and to 22% in the European contest, according to the poll.
Fianna Fáil has seen an increase of 5% on its General Election showing, with the party's support estimated at 22%, which is below what it won in these elections five years ago.
Sinn Féin's support is up since the General Election from 10% to 17% in the European Elections and 16% in the council ones.
The Green Party is estimated to be 3% in the locals and 6% in the European elections.
Support for the Socialist Party and the People Before Profit Alliance is at a combined 3%.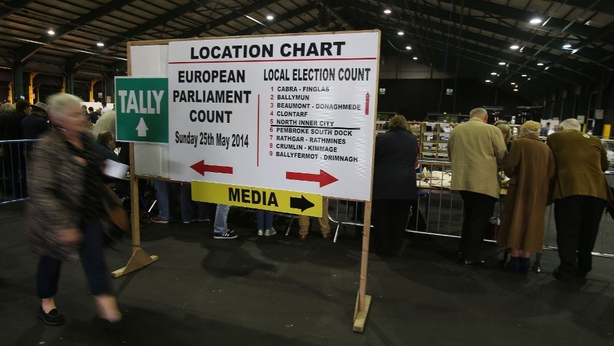 The European election poll - also carried out by Behaviour and Attitudes - took the views of more than 1,000 voters in the Dublin constituency and it has a margin of error 3%.
This poll puts Sinn Féin's Lynn Boylan on 24%, just short of a quota.
Four candidates appear to be in contention for the other two seats in Dublin.
They are Fine Gael's Brian Hayes and the Green's Eamon Ryan who are both on 14%.
Also in the race are Mary Fitzpatrick of Fianna Fáil on 12% and Independent Nessa Childers on 11%.
Labour's Emer Costello is on 8%, Paul Murphy of the Socialist Party is on 7% and Brid Smith of People Before Profit is on 6%.
Flanagan on course to win seat in Midlands North West
The exit poll shows Independent Luke 'Ming' Flanagan is on course to win a seat in the Midlands North West constituency.
The poll also took the views of just under 1,000 voters in the constituency and has a margin of error of around 3%.
Mr Flanagan looks like he could be leaving Leinster House for Brussels very soon.
He is on 20% support which, if this were to translate into votes, would be enough to elect him.
Fine Gael's Mairead McGuinness is estimated to have 16% support  which suggests she will win a seat.
Matt Carthy of Sinn Féin has 13% support.
That puts him firmly in the reckoning for a seat but he will need transfers to get there, based on these poll findings.
The combined Fianna Fáil vote here is 21% but it is split almost evenly between two candidates.
Pat the Cope Gallagher is on 11% and Thomas Byrne 10%. This vote will have to transfer smoothly if one of them is to get elected.
Sitting Independent MEP Marian Harkin is on 11%.
Minister for Public Expenditure and Reform Brendan Howlin has responded to early poll showings, saying people understand that the Government had to put in place the tough measures but did not like them.
Speaking to RTÉ, Mr Howlin said the poll showed people's reluctance to reward the Coalition coupled with an equal reluctance to switch their allegiance to the larger opposition parties.
The European Parliament Election votes will not be counted until tomorrow.