United Kingdom Independence Party leader Nigel Farage has insisted they will be "serious players" at the next general election after the party landed major blows against Conservatives and Labour in local polls.
With over a third of councils having declared, UKIP had gained nearly 100 seats - already exceeding expectations of around 80 wins.
They included 11 in Basildon to ensure it went from Tory to no overall control, and five in Thurrock to rob Labour of overall control.
Mr Farage predicted his party could secure 200 extra council seats by the end of the day .
Pointing to significant wins in Essex and areas such as Rotherham, he suggested the "Ukip fox is in the Westminster hen house".
"There are areas of the country where now we have got an imprint in local government," he said. "Under the first-past-the-post system we are serious players."
The comments came after a disappointing night for Labour, where the party failed to secure control of councils in spots such as Thurrock, considered crucial for a general election victory, although results in London were more impressive.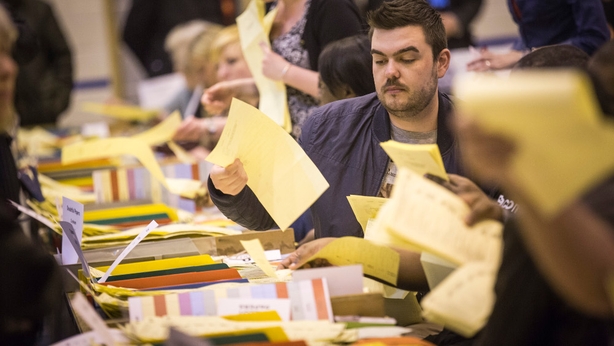 In the north, UKIP showed it could pose a threat in the traditional strongholds of Ed Miliband's party, taking ten of the 21 council seats up for election in Rotherham.
Shadow foreign secretary Douglas Alexander said the country appeared to have entered a period of "four-party politics".
So far Labour has boosted its councillor numbers by around 70, the Tories have lost 110 and the Lib Dems more than 60.
Education Secretary Michael Gove admitted voters had turned to UKIP to send a "very clear message", and the Liberal Democrats also suffered.
"They want to make sure that the Government delivers on the policies of controlling immigration, making sure that we reform our welfare state, making sure that we get a proper referendum in Europe and the instructions from the electorate are loud and clear.
"We appreciate and understand why people have voted UKIP, and in government we will make sure that we deliver on the priorities that people have clearly set out."
Mr Miliband came in for heavy criticism from some of his MPs, with Graham Stringer condemning problems with "both the presentation of our policies and the organisation of the campaign".
Former minister David Lammy said the party should have done better in places such as Swindon, conceding that voters were "swallowing" UKIP's message on immigration and Europe.