South Korean President Park Geun-hye formally apologised today for a ferry disaster last month that killed about 300 passengers, mostly school children.
She also said she would break up the coast guard because it had failed in its rescue mission.
Ms Park has been hit hard by an angry nationwide outcry over the government's response to South Korea's worst civilian maritime disaster in 20 years and the seemingly slow and ineffective rescue operation.
Polls show support for Ms Park has dropped by more than 20 points since the 16 April disaster.
"I apologise to the nation for the pain and suffering that everyone felt, as the president who should have been responsible for the safety and lives of the people," Ms Park said in a televised national address.
It is her first address since the ferry Sewol capsized and sank with 476 passengers and crew on board.
At least 286 people were killed and 18 remain missing. Only 172 people were rescued, with the rest presumed to have drowned.
Of the passengers, 339 were children and their teachers on a field trip from a secondary school on the outskirts of Seoul.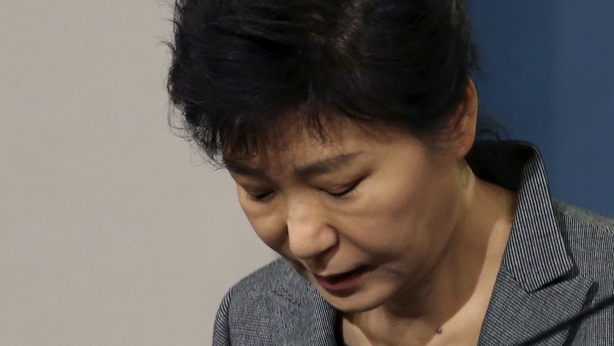 Ms Park vowed sweeping reforms to improve oversight, as well as tough punishment for bureaucrats and businesses whose negligence endangers public safety.
"A 20-year-old vessel was bought and refurbished to add excessive capacity, then it was loaded with much more cargo than allowed with a false reporting on weight, but not a single person in the position to supervise stopped any of it," Ms Park said.
She singled out structural problems within the coast guard as the main reason why there was such a high casualty toll from an accident that played out on national television as the vessel gradually sank with most of the passengers trapped inside.
"Had there been an immediate and proactive rescue operation after the accident, we would have been able to reduce the casualties," Ms Park said.
The coast guard's rescue duties will be transferred to a national emergency safety agency to be set up and the national police will take over its investigative function, she said.