A man has been rescued after clinging to a lobster buoy off Tullagh Beach in Co Donegal.
The alarm was raised at around 1.50pm after a woman and her son, who were tending sheep near Tullagh Beach, heard cries for help and saw a man clinging to the lobster buoy.
A volunteer lifeboat crew with Lough Swilly RNLI was involved in the dramatic rescue of the fisherman.
The alarm was raised when the Coast Guard at Malin Head was phoned by the man who had spotted the fisherman in trouble from the beach.
Both Lough Swilly RNLI lifeboats, a local fishing vessel, the Irish Coast Guard helicopter from Sligo and the Coast Guard Greencastle boat responded to the emergency.
The local fishing boat was first on scene. It was guided to the location by the mother and son who had seen the man in trouble from the beach.
They recovered the man, who was wearing a lifejacket, and took him onto their vessel.
The Lough Swilly RNLI inshore lifeboat arrived on the scene three minutes later. The man was transferred on board the lifeboat.
A few minutes later, the Coast Guard helicopter arrived overhead and winched a paramedic on board the lifeboat to assess the man.
The lifeboat came ashore onto Tullagh Beach, where the helicopter landed nearby.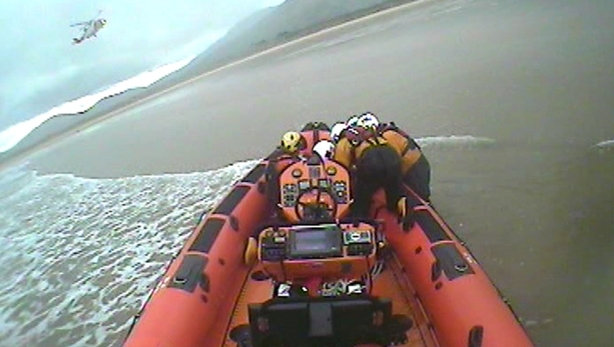 The fisherman was immediately transferred to the helicopter and flown to hospital for treatment.
He is being treated for non-life threatening injuries in hospital.