More bodies were recovered from the Serbian town of Obrenovac as unprecedented floods swept the region, bringing the overall death toll across the Balkans to 44.
In the town of "Obrenovac alone we recovered 12 corpses," Prime Minister Aleksandar Vucic said, bringing the toll in Serbia to 16. Bosnia has confirmed 27 dead and Croatia one.
Russian cargo planes and rescue teams from around Europe have joined volunteer aid efforts in Serbia and Bosnia.
Rains eased and waters have receded in the worst-hit areas of central and western Serbia and northeastern Bosnia.
But the River Sava was forecast to continue rising in the Serbian capital, Belgrade.
The Sava burst its banks after days of torrential rain, flooding towns and cutting power to tens of thousands of homes.
Thousands of soldiers and volunteers worked through the night to build a sandbag barrier 5km long to protect Serbia's Kostolac coal-fired power plant, which currently covers 20% of Serbia's electricity needs.
But waters from the River Mlava broke through early this morning, threatening the Drmno coal mine deposits near the Kostolac plant.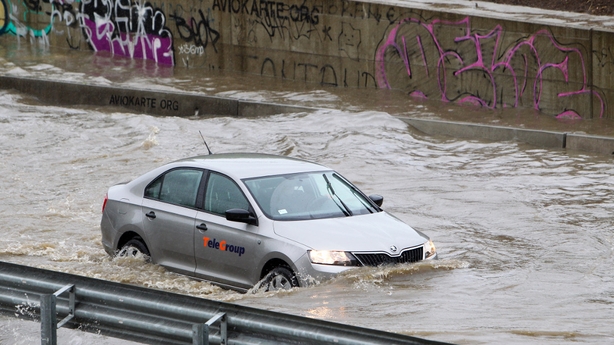 "The army, police, volunteers and Kostolac employees are using all mechanisation and are piling up sandbags to slow the river flow and prevent it from entering the power generation system," Alma Muslibegovic, a spokeswoman for Serbia's EPS power distributor said.
Flooding had already cut Serbian power generation by 40%, forcing the cash-strapped Balkan country to boost imports.
Prime Minister Aleksandar Vucic said a fire and flooding of surface mines at the 1,300 megawatt (MW) Kolubara coal-fired power plant southwest of Belgrade had caused damage of "at least €100 million".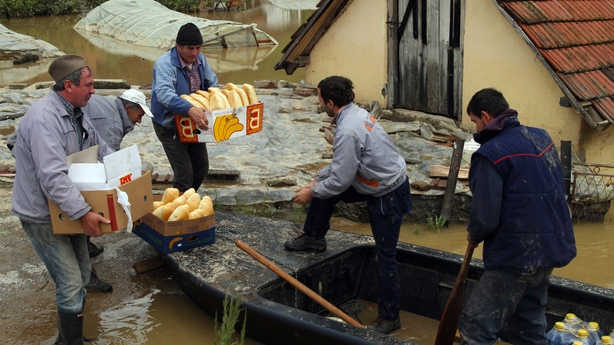 Authorities say the economic impact of the floods will be huge, devastating the agricultural sector vital to both the Serbian and Bosnian economies.
"The danger today is less than it was yesterday, but we have to control the Sava as much as we can," Mr Vucic told a televised cabinet session. "These are the kind of waters not seen in 1,000 years, let alone 100."
In Obrenovac, members of a rafting club from the southern Serbian town of Raska joined rescue efforts, evacuating elderly men and women on their backs after days spent without electricity in flooded homes.
In Bosnia, 27 people were confirmed dead, with nine bodies recovered from the northeastern town of Doboj after what the regional police chief described as a "tsunami" of water 3-4m high.
Bosnian soldiers distributed food and medical supplies by truck, boat and bulldozer. Cranes lifted medical workers into the top floors of some homes and removed stranded residents from others.
Two Russian Ilyushin-26 cargo planes landed in Serbia today carrying food, generators and rescue boats.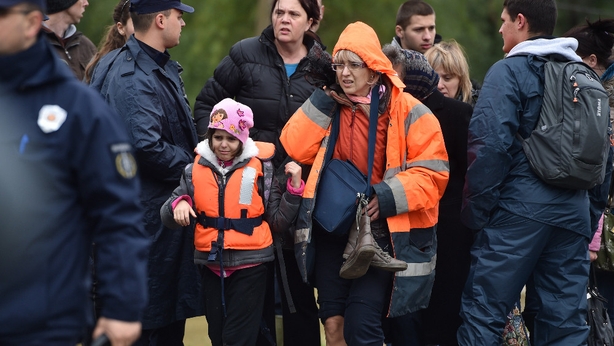 Rescue teams, humanitarian aid, water pumps and generators have arrived from Russia and several European Union member states, including Britain, Germany and Austria. Support has also come from Serbia and Bosnia's fellow ex-Yugoslav republics.
Around 20,000 people have been evacuated in Serbia and at least 13,000 more in Bosnia. Donations of clothes and food poured into collection centres in Belgrade.