Medals, letters, bayonets and pictures are among the artefacts people have brought to the museum at Glasnevin Cemetery today.
It is collecting World War I artefacts from members of the public for a centenary exhibition of the Great War.
Experts are on hand to give an historical assessment of the items, while people can share their family's story.
Items may then be loaned for a temporary exhibition, in the Museum's Prospect Gallery, which will be held in July.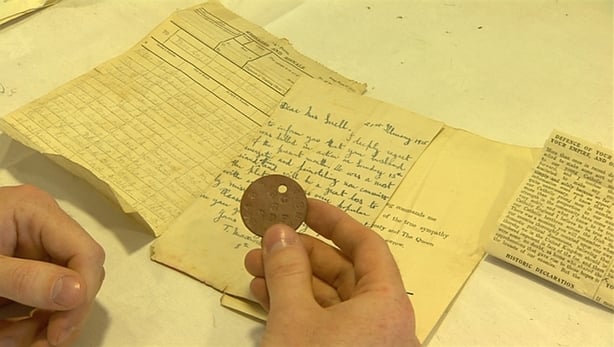 Historian Conor Dodd, told a couple who brought a collection of letters that it "was one of the best collections" he had seen.
It includes the dog tag of a soldier and a letter to his wife, informing her that her husband had been killed in action.
Eithne Kernan, from Dublin, brought a framed picture of her grand-uncle William Redmond, wearing a British Army uniform.
"I was told it was taken in black and white and an artist put in the colour, which was quite common at the time.
I know very little about him, he and his brother went to the first World War, both of them survived," she said.
Historian Conor Dodd, told her the photograph may have been taken before World War I.
An indication that he may have served in the British Army before the war.
Jonathan Cully developed an interest in World War I when he was given his grand-uncle's medals.
Today, he brought a box of medals and two helmets, one French the other German, to offer to the museum's exhibition.
"I picked them up over the years in Belgium, France, flee markets and military fairs," he said.
My grand-uncle fought in the war, so did his brother. He came back, his brother didn't."
Members of public are encouraged to bring along artefacts of relevance to World War I, where they will be historical assessed and a free valuation given for insurance purposes.
It is hoped that the items will be loaned to the museum for an exhibition, which will take place in July, to mark the centenary of the Great War.
Deputy CEO of Glasnevin Trust, Mervyn Colville said, "the idea to try and put a bit of story to the item.
"A lot of people coming in today know it was their grandfather's medal, uniform or bayonet but we will try and put a historical significance to that.
"An item that someone might think isn't of any significance might help us in telling the story of the Irish who fought in World War I," he said.