India's main opposition leader Narendra Modi has promised to work to "fulfil the dreams of 1.2 billion people".
Mr Modi addressed cheering supporters today, after a landslide Indian election victory for his Hindu nationalist party.
A sea of well-wishers from across his constituency of Vadodara in Gujarat turned out to hear the 63-year-old former tea boy.
He is poised to become prime minister of the world's second-most populous nation.
"The heat of the election is over and the people have given their verdict, which says that we need to take India forward, to fulfil the dreams of India's 1.2 billion people," he said.
"There are no enemies in democracy, there is only opposition. I will take your love and convert it into progress before I return."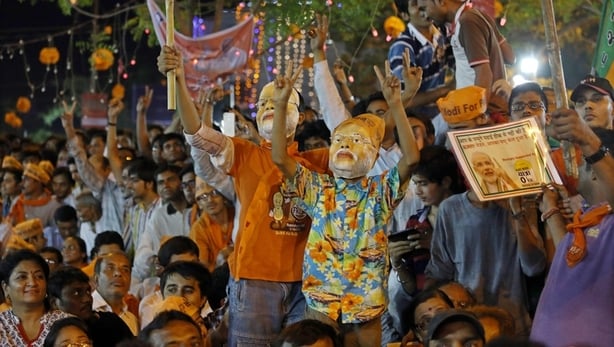 The crowds of thousands festooned in his Bharatiya Janata Party's saffron colour erupted in cheers, amid screams of "Modi! Modi!" as he took to the stage, flashing a victory sign and smiling broadly.
"I want to take all of you with me to take this country forward... it is my responsibility to take all of you with me to run this country," he added.
"Everyone's support and everyone's development is our mantra, and these are not hollow words, this is our spirit. That is why the people have given us a clear majority."
Mr Modi's opponents and critics have warned that the 63-year-old, who has a reputation as a religious hardliner, will stoke tensions in the Hindu-majority country, which is home to 150 million Muslims.
Prime Minister Manmohan Singh warned in January that he would be "disastrous" for the country.