Thousands of litres of crude oil spilled in Los Angeles after a break in an above-ground Plains West Coast pipeline, the city fire department said.
The spill was almost 38,000 litres, according to Jamie Moore, a public information officer with the Los Angeles Fire Department.
The first estimate of the spill was 3.8 million litres, which was revised down to 190,000 litres, or slightly more than 1,000 barrels.
A clean-up is now under way, with crews vacuuming up most of the crude.
Four people at a nearby business were evacuated with respiratory complaints, and two people were transferred to a hospital, the Associated Press said, citing a fire official.
The pipeline was shut off remotely, and the incident shutdown a section of the Atwater Village area of the city, a local NBC affiliate reported.
"Oil is knee-high in some areas," the fire department said."A handful of commercial businesses are affected."
The break in the 20-inch pipeline was at a pumping station in an industrial area near San Fernando Road in Atwater Village, the fire department said.
Video footage from the NBC affiliate showed oil spraying about 20 feet in the air from the leak, which happened at an oil-gathering station situated next to a strip club, The Gentlemen's Club, which was evacuated, according to media reports.
The Plains West Coast pipeline is run by Plains Pipeline LP, a unit of Plains All American. A company spokesman did not immediately return a call outside normal business hours.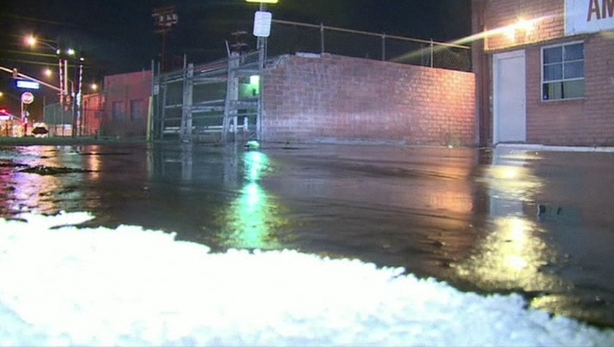 LA Battalion Chief David Spence told local television that the line ran from California's main oil-producing region near Bakersfield to a storage facility in Long Beach, near a cluster of refineries including those run by Phillips 66, Valero and Tesoro.
It was unclear which, if any, of the plants would be affected by the disruption.
An oil pipeline of 20-inch diameter is medium-sized by industry standards and would generally transport about 200,000 barrels per day based on average rates.
There was no immediate information about the specific capacity or throughput of the line.