Nigeria's President Goodluck Jonathan has rejected the idea of a swap of Boko Haram prisoners for schoolgirls who were kidnapped by the Islamist group a month ago.
British minister Mark Simmonds, in Nigeria for talks about the international rescue mission, said he raised the issue with Mr Jonathan during a meeting in Abuja.
Boko Haram extremists abducted 276 girls from the remote northeastern town of Chibok in Borno state on 14 April, and about 223 are still missing.
Boko Haram leader Abubakar Shekau suggested in a video released on Monday that he may be prepared to release the girls if Nigeria freed militant fighters held in the country's jails.
Interior Minister Abba Moro immediately rejected the plan, telling AFP that the group could not dictate terms.
The group has waged an increasingly deadly insurgency in northeast Nigeria since 2009.
Nigeria has stated that it is ready to talk to the militants about ending the violence and special duties minister Taminu Turaki indicated yesterday that the girls could be one issue discussed.
But while Mr Simmonds indicated that Mr Jonathan has now ruled that out, he was still prepared to fulfil his pledge of talking to the extremists about wider issues to end the violence.
"The point that was also made very clear to me is that the president was keen to continue and facilitate ongoing dialogue to find a structure and architecture of delivering lasting solution to the conflict and the cause of the conflict in northern Nigeria," he added.
The US military is flying surveillance drones as well as manned aircraft over Nigeria to help in the search for the girls.
"I can confirm that we're using both manned and unmanned aerial ISR (intelligence, surveillance and reconnaissance) assets in the search for the kidnapped girls," Colonel Steven Warren told reporters.
Both types of aircraft that were deployed are "unarmed" and are being used strictly for surveillance to help track the location of the missing schoolgirls, he added.
The commander of US forces in Africa, General David Rodriguez, paid a two-day visit to Nigeria this week to discuss how Washington can aid the government in the kidnapping crisis.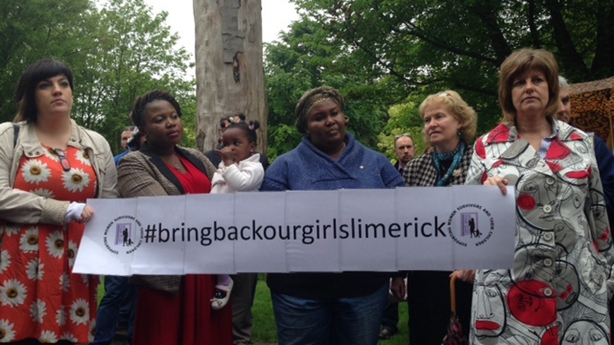 Meanwhile, around 100 people took part in a gathering of solidarity in the People's Park in Limerick today to support the abducted girls.
The gathering, which observed a moment's silence, was organised by ADAPT Domestic Abuse Services in Limerick, which provides shelter and advice for women and families who suffer abuse.
Monica McElvaney, a director of ADAPT, said the gathering was to continue to highlight the abuse of these young women, and that they have a right to an education and not to be used as weapons of war.