Furious Turks heckled Prime Minister Tayyip Erdogan and jostled his entourage today, as protests erupted in several cities over a coal mine disaster in which at least 274 people died.
With rescuers still pulling bodies from the site in western Turkey, anger swept a country.
Turkey has seen a decade of rapid economic growth, but still suffers from one of the world's worst workplace safety records.
Mr Erdogan expressed his regret after visiting the site where around 100 miners are thought to be still trapped underground following Tuesday's fire.
"We as a nation of 77 million are experiencing a very great pain," he told a news conference.
But he appeared to turn defensive when asked whether sufficient precautions had been in place.
"Explosions like this in these mines happen all the time. It's not like these don't happen elsewhere in the world," he said, reeling off a list of global mining accidents since 1862.
Angry residents broke windows at the local government offices in Soma, some chanting "Erdogan resign".
A crowd lined the street and booed as the prime minister walked through the town, jostling with members of his entourage.
Protesters later kicked Mr Erdogan's car as it left the area.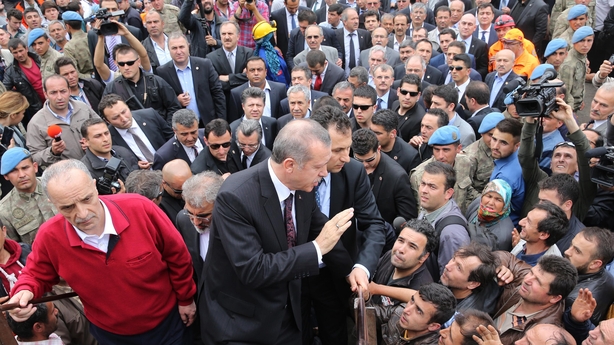 Opponents of Mr Erdogan attacked his government for leasing mines to parts of the private sector cosy with the ruling party, and accuse it of ignoring repeated warnings about their safety.
In Istanbul, police fired tear gas and water cannon to disperse several thousand people, some wearing miners' hard hats and headlamps.
Police also clashed with demonstrators in the capital Ankara and there were protests in other cities.
Many took to social media to express their outrage at the government's handling of the crisis.
"Beyond ridiculous. Turkish PM cites 19th century Britain to prove mining accidents are 'typical'," one user wrote on Twitter.
The fire knocked out power and shut down ventilation shafts and elevators shortly after 3pm yesterday.
Emergency workers pumped oxygen into the mine to try to keep those trapped alive during a rescue effort that lasted through the night.
Thousands of family members and co-workers gathered outside the town's hospital searching for information on their loved ones.
"We haven't heard anything from any of them, not among the injured, not among the list of dead," said one elderly woman, Sengul, whose two nephews worked in the mine along with the sons of two of her neighbours.
"It's what people do here, risking their lives for two cents ... They say one gallery in the mine has not been reached, but it's almost been a day," she said.
A mechanical digger opened a row of fresh graves at Soma's main cemetery.
An imam presided over the funeral of six miners as a few hundred mourners wept in silence.
The fire broke out during a shift change, leading to uncertainty over the exact number of miners trapped.
Initial reports suggested an electrical fault caused the blaze but Mehmet Torun, a board member and former head of the Chamber of Mining Engineers, said a disused coal seam had heated up, expelling carbon monoxide through the mine's tunnels and galleries.
"They are ventilating the shafts but carbon monoxide kills in three or five minutes," he told Reuters by telephone.
"Unless we have a major miracle, we shouldn't expect anyone to emerge alive at this point," he said, pointing to an outside chance that workers may have found air pockets to survive.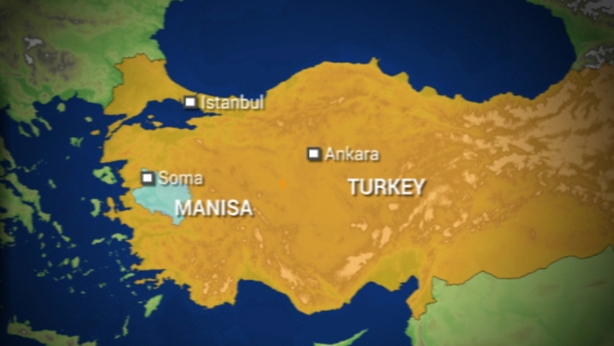 Meanwhile, thousands of family members and fellow workers gathered outside the town's hospital waiting for information.
Teams of psychiatrists are being pulled together to help counsel the families of victims.
Paramilitary police guarded the entrance to the mine to keep distressed relatives at a safe distance from the rescue effort.
A cold storage warehouse, usually used for food, and freezer trucks have been serving as makeshift morgues as hospital facilities are overflowed.
A Turkish government official said three days of mourning have been declared.
The latest explosion is one of the numerous mining accidents that Turkey has had in recent years.
Accidents, cave-ins, and explosions claim the lives of dozens of mine workers each year.
The worst mining tragedy in Turkey occurred in 1992, when a fire and explosion killed 263 people.