NBA icon Magic Johnson has said that disgraced Los Angeles Clippers owner Donald Sterling has yet to apologise adequately for racially charged remarks that have the league seeking his expulsion.
Mr Johnson took the high road a day after Mr Sterling's interview with CNN segued from an apology for advising his girlfriend not to associate with black people into an attack on the former Los Angeles Lakers great.
"Even today, he has never apologised to me or to the other minorities that he has offended," Mr Johnson said in a call to celebrity news website TMZ, insisting that he bore Mr Sterling no ill-will.
"We all should try to get him some help," said Mr Johnson, who was also scheduled to appear on CNN.
Mr Sterling's appearance with CNN anchor Anderson Cooper was aimed at salvaging his reputation and making the case that he should be allowed to retain his coveted basketball franchise.
But far from quelling the controversy, the real estate mogul ignited a new firestorm by attacking Mr Johnson, a beloved figure throughout the US sports world.
"He's messing with the wrong brother," filmmaker Spike Lee told Mr Cooper. "He's making the NBA look like the laughing stock, and if I was an owner, he has to go."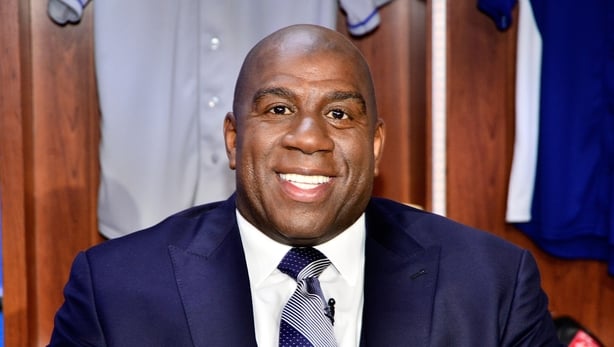 Mr Sterling called Mr Johnson a poor role model because he had contracted HIV and suggested he had not used his fame or fortune to help fellow African Americans.
"He acts so holy," the 80-year-old billionaire said of Mr Johnson. "He does nothing. It's all talk."
NBA Commissioner Adam Silver condemned Mr Sterling's latest remarks, saying in a statement the league was pressing ahead with efforts to remove Mr Sterling "as expeditiously as possible."
"While Magic Johnson doesn't need me to, I feel compelled on behalf of the NBA family to apologize to him that he continues to be dragged into this situation and be degraded by such a malicious and personal attack," Mr Silver said.
The Clippers' popular coach, Doc Rivers, who like most players on the team roster is African American, also spoke up for Mr Johnson.
And, responding to Mr Sterling's expression of regret for his racist comments, Mr Rivers told USA Today: "Whatever it is, that doesn't sound like much of an apology to me."
The controversy has been a distraction for the team, who have their best opportunity in years to fashion a deep playoff run.
The team is tied 2-2 in their best-of-seven Western Conference semi-final series against Oklahoma City and are scheduled to take the court again in the early hours of Wednesday morning.
Already banned for life by the NBA for the bigoted comments to his girlfriend that prompted the league to attempt to strip him of ownership of his club, Mr Sterling called the remarks a "mistake."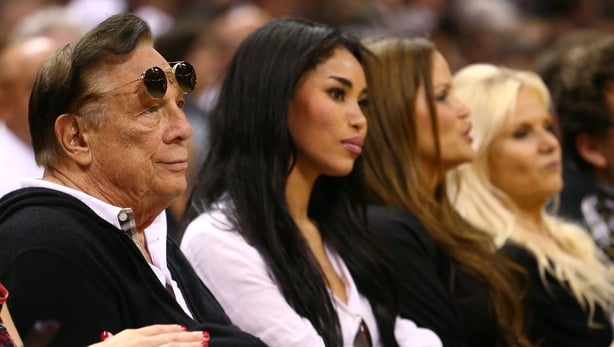 "I'm not a racist," he told CNN, pinning much of the blame on V Stiviano, the young woman he chastised in the leaked conversation.
"I was baited," Mr Sterling said. "I don't know why the girl had me say those things."
Meanwhile, Mr Sterling's estranged wife Shelly, who has said she'll fight to keep her ownership stake in the team, told NBC television that her estranged husband was more likely senile than racist.
"He's not the man I know, or I knew," she said. "There's something wrong. I really think, personally, he has dementia."
She also suggested it was sexist of the NBA to force her to relinquish her share of the team if her husband must give up his.
"Why am I the victim when he's the perpetrator," she said. "If somebody kills somebody, does the wife have to stand trial too?"