The National Famine Commemoration has taken place in Strokestown, Co Roscommon.
The event, led by Taoiseach Enda Kenny and the Minister for Arts, Heritage and the Gaeltacht Jimmy Deenihan, involved prayers of remembrance, military honours and wreath-laying ceremonies.
Mr Kenny unveiled a memorial wall at Strokestown Park listing the names of 1,490 people who emigrated from the area in 1847.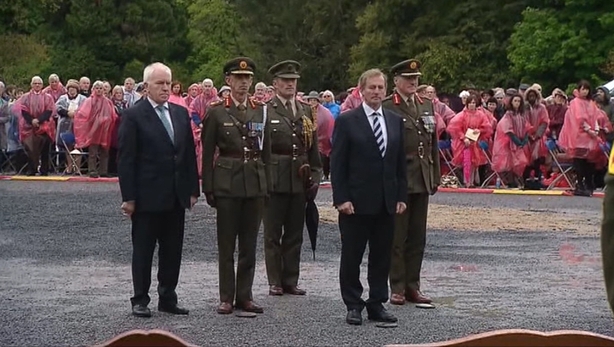 The Strokestown emigrants were tenants of the Mahon Estate who were given assisted passage by their landlord during the famine.
However, by the time they reached Grosse Isle in Canada almost 700 had died. 
Around one million people are estimated to have died during the famine, with around one million more emigrating.
The British government's response to the failure of the potato crop after it was struck by blight, the exportation of food crops and the subsequent large-scale starvation soured the already strained relations between the Irish people and the British Crown.
Many historians view it as a seminal moment in Irish history, one which heightened republicanism, eventually leading to independence.
Speaking at today's event, Mr Kenny said: "In remembering our past, we must not lose sight of our present.
"Our history of famine means that Irish people have a particular empathy with those suffering the effects of hunger in the world today.
"As Taoiseach, in honour of our Famine dead, I'm proud to be able to say that combating global hunger and under-nutrition is central both to Ireland's foreign policy and to our overseas development-assistance programme - Irish Aid."