Supporters of Thailand's beleaguered government gathered on the outskirts of Bangkok, saying they were determined to safeguard democracy as rival anti-government protesters pressed their campaign in the city.
Thailand's polarised politicians have been unable to forge a compromise over a nearly decade-long split between the royalist establishment and a populist former telecommunications tycoon.
His sister, Yingluck Shinawatra, was ousted as prime minister on Wednesday.
Her sacking by the Constitutional Court for nepotism followed six months of anti-government protests that have unnerved investors, frightened away tourists and dented growth in Southeast Asia's second-biggest economy.
Ms Yingluck's supporters have derided her removal as a"judicial coup".
Her brother, former prime minister Thaksin Shinawatra, was ousted in a military coup in 2006.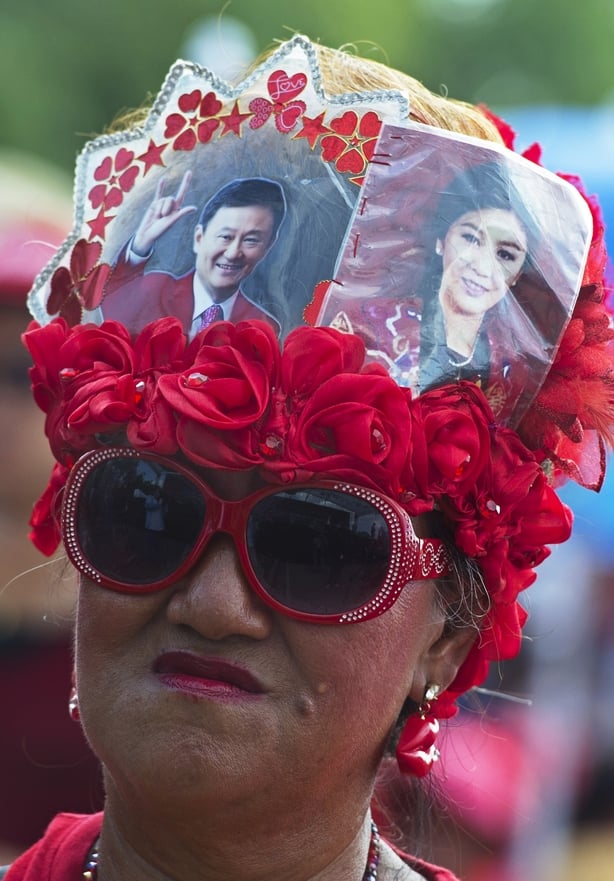 A day after Ms Yingluck was thrown out of office she was indicted by an anti-corruption agency for negligence over a rice subsidy scheme aimed at helping farmers that ran up huge losses.
The upper house Senate is expected to impeach her for that, which would result in a five-year ban from politics.
But Ms Yingluck's Puea Thai party still runs a caretaker government and is hoping to organise a 20 July election that it would probably win.
Anti-government protesters want the government out, the election postponed and reforms to end Mr Thaksin's influence.
Protest leader Suthep Thaugsuban, a former deputy premier in a government run by the pro-establishment Democrat Party, called his supporters out onto the streets of Bangkok yesterday for what he says will be a final push to get the government out and install an unelected "people's council" to oversee reforms aimed at excluding Mr Thaksin from politics.
Protesters held rallies and blocked some main roads today but there were no reports of violence.
Both the pro-and anti-government camps have armed activists within their ranks and the rival protests this weekend, even though they are far apart, have raised fears of trouble.
He called on the upper house Senate, the judiciary andElection Commission to appoint a neutral prime minister andcabinet.
Mr Thaksin won huge support in the north and northeast with pro-poor policies and he or his loyalists have won every election since 2001.
But his enemies say he buys votes and they want to change the electoral rules before new polls to try to stop his party winning again.
Mr Thaksin lives in self-imposed exile to avoid a jail term handed down in 2008 over corruption, but has been a major influence over his sister's government.
The army, which has staged numerous coups since the end of absolute monarchy in 1932, has stayed out of the turmoil but substantial violence on the streets would raise the possibility of military intervention.
King Bhumibol Adulyadej, 86, the world's longest-reigning monarch, has stepped in to defuse previous crises but has not commented on this one since it blew up late last year.
The divide between the poor and what they see as the establishment elite represents a collapse of a traditional order in Thailand at a time when people have begun to broach the hitherto taboo topic of royal succession.
An undercurrent of the political crisis is deep anxiety. Crown Prince Vajiralongkorn does not command the same devotion as his father.