Germany and France will draw the "appropriate consequences" if the election in Ukraine on 25 May does not go ahead as planned.
The threat was issued by Chancellor Angela Merkel and French President Francois Hollande in a joint statement today.
Speaking to reporters after the statement was released, Ms Merkel said that if the elections fail then "we are ready to take further sanctions against Russia."
In their statement, the two leaders said: "If there is not an internationally recognised presidential election, that would lead unavoidably to a further destabilisation of the country.
"Germany and France are in agreement that if that is the case then corresponding consequences would be drawn as outlined by the European Council on March 6, 2014."
That is a clear reference to the third stage of sanctions,especially economic sanctions against Russia, that EU leaders agreed in March.

At the same time, Germany and France called upon all sides to start disarming irregular forces under the auspices of the OSCE by 15 May at the latest.
All parties are called upon to cease acts of violence.
Earlier, several members of the Red Cross were held for seven hours by rebel activists in the eastern Ukrainian city of Donetsk and released early today, one having been beaten, a Red Cross official in Kiev said.
A spokesman for the self-styled pro-Russian "Donetsk People's Republic" said on they had been detained yesterday by rebel activists on suspicion of espionage.
The Red Cross official gave no further details, though the internet newspaper Novosti Donbassa said a Frenchman had been among those held, there was no confirmation of this.

"They were released at two o'clock. One had been heavily beaten," Red Cross official Irina Tsaryuk told Reuters.
Meanwhile, two eastern Ukrainian provinces will go ahead with a referendum on seceding from the country as planned this weekend despite Russian President Vladimir Putin's call for a delay.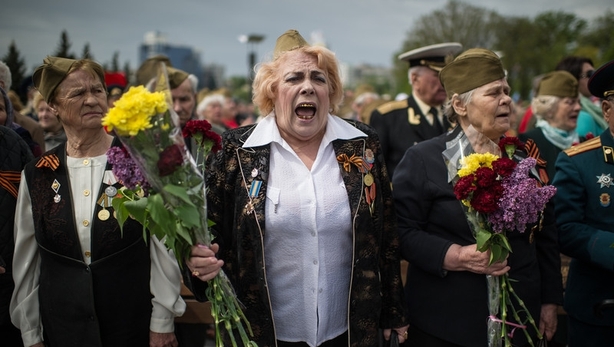 'The referendum on May 11 will take place,' said Miroslav Rudenko, a separatist leader of the self-proclaimed Donetsk People's Republic.
The secession referendum will let the three million residents of the provinces of Luhansk and Donetsk vote on whether they want to stay part of Ukraine.
Ukrainians opposed to a split see it as a precursor to an eventual merger with Russia, as happened with Crimea in March.
Yesterday fighting between troops and pro-Russian separatists in Ukraine's southeastern city of Mariupol left 21 people dead.
Interior Minister Arsen Avakov said 20 insurgents and one police officer were killed.
Mr Avakov said that five policemen were wounded and four rebels were captured.
The Interfax-Ukraine news agency said police were trying to take back control of the police building when they came under fire from pro-Russians who had taken the interior ministry building.
Ukrainian forces brought several armoured cars into the town, a major industrial and shipping centre with a population of about half a million.
Ukraine's security forces struggle to meet rebellion in east
Ukraine is training new recruits to add to their poorly maintained National Guard.
The first platoon has already been sent to the east and last week the second group was undergoing intensive training in Novi Petrivtsi, near Kiev.
With just a day to go before separatists in the Luhansk and Donetsk regions carry out referendums on gaining independence from Kiev, the government wants to ensure their poorly equipped army is ready to fight insurgents who may well be emboldened by the result of the vote.
Weeks of fighting have exposed 20 years of neglect of Ukraine's security forces since the 1991 collapse of the Soviet Union.
Eastern rebels that Kiev and the West say are backed by Russian special forces benefit from political vacillation, disarray among the generals and field commanders unsure of their orders.
And at the ground level, the soldiers' primary concern not to harm civilians as they fight separatists entrenched in city buildings has hampered their ability to halt the pro-Russian movement.
While an outright invasion by Russia, which would trigger a tense NATO-Russia standoff across Europe, seems less likely for now, President Vladimir Putin has left the option open.
Insurrection began in eastern, Russian-speaking areas of Ukraine after protests in Kiev forced pro-Kremlin president Viktor Yanukovych to flee to Russia. Since then rebels have seized cities across the region, mostly with little resistance.
The Interior Ministry and police forces have been found wanting, some accused of direct collaboration with pro-Russian activists. Police chiefs throughout the country have been replaced, in the east their jobs taken by rebels.
The entire police leadership in Odessa was sacked after eastern insurgency spread for a day to the southwestern port city, raising fears of a lurch to civil war. More than 40 police died in clashes, most rebel activists trapped in a blazing building.