Ukraine's interior ministry has said 40 people died when a trade union building was set on fire in the Ukrainian port city of Odessa.
Police said 38 people had choked to death on smoke or were killed when jumping out of windows after the trade union building was set on fire.
Regional police said the trade union building was set on fire in some of the worst violence in the largely Russian-speaking Black Sea city since former president Viktor Yanukovych was ousted in February. 
Four men died in running battles between pro-Russian and pro-Ukrainian activists with petrol bombs, paving stones and explosive devices being thrown during the clashes.
Hundreds of separatists attacked a rally of around 1,500 people demonstrating for national unity.
A local politician told Ukrainian television that at least six young supporters of the authorities in Kiev had been killed in the fighting, but this figure has not been confirmed by police.
Two soldiers have also been killed in renewed clashes with pro-Russian rebels in the eastern city of Slaviansk according to the Ukrainian defence ministry.
"A group of armed extremists attacked Ukrainian soldiers of the 95th Paratroop Brigade...Intense combat ensued. Two Ukrainian soldiers are dead," the ministry said in a statement.
Seven people were killed in the city earlier today, including two Ukrainian servicemen who died when two military helicopter were shot down by pro-Russia rebels.
Three separatists and two civilians were killed in a military offensive in the city.
Acting president Oleksander Turchynov said Ukrainian border troops had rebuffed attempts by Russian "armed saboteurs" to cross into Ukraine overnight.
He also said that he operation to retake Slaviansk had not progressed as quickly as he hoped, complicated by pro-Russian rebels hiding "behind the citizens" and "firing from apartment blocks".
Russia called an emergency meeting of the UN Security Council today to discuss the "serious escalation of violence in Ukraine."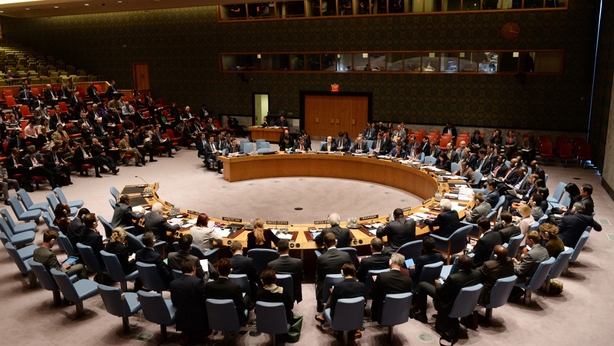 However, western powers and Russia used the meeting to accuse each other of hypocrisy and double standards in confronting the crisis in Ukraine.
"The scale of Russian hypocrisy is breathtaking," British Ambassador Mark Lyall Grant said.
"Russia stoutly supports, and indeed arms, the most repressive regimes in the world, notably Syria, a regime which brutally suppresses dissent without any sense of restraint or concern for the protection of civilians."
              
"Russia's synthetic indignation over Ukraine's proportionate and measured actions convinces no one," he added.
Moscow's UN Ambassador Vitaly Churkin threw his own accusations at the West.
He said Western countries were guilty of double standards for condoning Kiev's current military operations after urging Ukraine's Mr Yanukovych not to deploy the army to end months of unrest that eventually led to his ouster.
He also accused Western countries of interfering in the internal affairs of Ukraine.
Ukraine forces in move against separatists
Ukrainian forces appear to be carrying out one of their most concerted military operations yet, but their advance on the ground has been limited.
A spokesman for Russian President Vladimir Putin accused Ukraine of firing on civilians from the air in a "punitive operation" that destroyed an international peace plan.
Russia was "extremely worried" about the fate of Russians in the city, including an envoy sent to help free German and other foreign hostages, the Kremlin spokesman said.
The dramatic language seems to raise the stakes, as Russia has tens of thousands of troops massed on the border.
It is claiming the right to invade if needed to protect Russian speakers.
Journalists in Slaviansk, the most heavily fortified bastion of pro-Russian separatists in eastern Ukraine, heard shooting break out and saw one helicopter opening fire before dawn.
Ten hours later, the city was largely quiet, with shops shut and armed separatists in control of the streets.
Advancing Ukrainian forces in armoured vehicles took up positions closer to the suburbs, but rebels still controlled most of the city of 130,000.
The pro-Russian militants have made other moves, seizing a rail control centre for the Donetsk region, a railway official said.
By cutting off power, they had all but paralysed train traffic.
Ukraine said the firing of missiles that brought down its helicopters was evidence that Russian forces were present in the town. Russia denies that its troops are on the ground.
Nonetheless, Kremlin accounts of grave threats to civilians highlight the risk of a Russian move to seize territory ahead of a vote the rebels aim to hold on 11 May.
They are seeking a mandate to break away from Ukraine in a vote similar to one held in the Crimea region before Russia annexed it in March.
Russia faces further sanctions if vote impeded
US President Barack Obama said the United States would move to "sectoral sanctions" on Russia if Moscow impeded plans for elections in Ukraine later this month.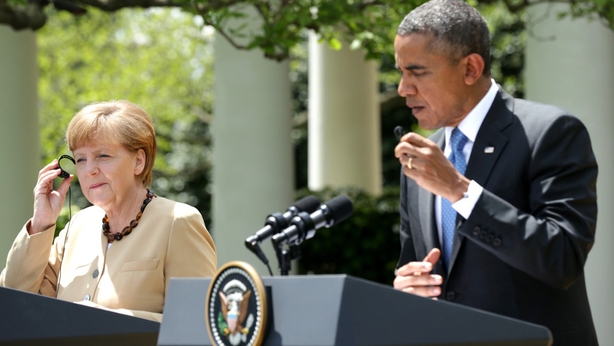 Mr Obama was speaking to reporters at the White House after talks with German Chancellor Angela Merkel.
She also also supported a move to wider sanctions and said the European Union and the US would continue to work in concert on the issue.
"The next step is going to be a broader-based sectoral sanctions regime," Mr Obama said.
Ms Merkel agreed, saying that 25 May was a critical date and "we will see to it that elections can take place."
The US and the EU have imposed several rounds of sanctions on individuals and some companies to try to persuade Russian President Vladimir Putin to halt any interference in Russian-speaking areas of eastern Ukraine.
Energy and banking sectors are two of the most likely areas if those sanctions are widened.