Car bombs and mortar attacks have killed at least 51 people in Syrian government-held areas of Damascus and the central city of Homs.
It comes a day after President Bashar al-Assad declared he would seek re-election in June.
Government forces have pushed back the mainly Sunni Muslim rebels seeking to topple President Assad from many of their strongholds around Damascus.
However, residents say the insurgents have stepped up rocket and mortar attacks against the heart of the capital in recent weeks.
Forces loyal to President Assad, whose Alawite sect is an offshoot of Shia Islam, are also in control of most of Homs.
The attacks targeted Alawite and Shia areas of the two cities.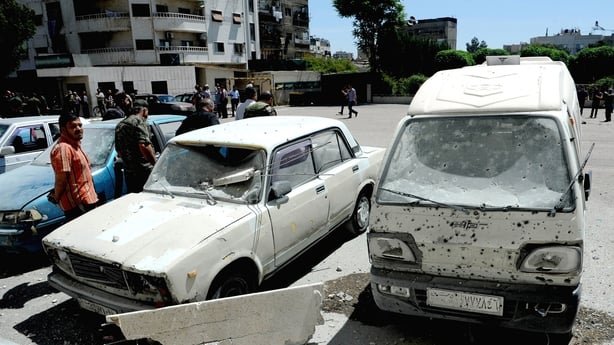 In Homs, at least 37 people including children were killed by twin car bombs near a busy roundabout in the Alawite neighbourhood of Zahraa.
A local security source put the death toll at 42.
In central Damascus, two mortar shells struck an education complex in the mainly Shia Muslim district of Shaghour, killing at least 14 people and wounding dozens.
The state news agency SANA described the Badr el-Din Hussaini complex as a religious Jurisprudence college.
However, residents said there were also primary and secondary school students there.
SANA said 14 people had been killed and 86 wounded but the British-based Syrian Observatory for Human Rights, which monitors the violence in Syria, put the death toll at 17.