Ten Malaysia Airlines staff were held against their will for hours by Chinese relatives of flight MH370 passengers at a Beijing hotel.
The hotel has seen increasingly tense confrontations over the missing plane.
The airline employees were "barred from leaving" a ballroom for more than ten hours yesterday.
Another staff member was kicked in the leg in a confrontation two days earlier, the airline said.
Tempers have repeatedly flared at the Lido Hotel, where Chinese relatives have been put up by the airline since the plane vanished.
They have been lashing out in briefings as Malaysian officials and the flag carrier have been unable to explain the plane's disappearance.
"Malaysia Airlines confirms that its staff were held at the Lido Hotel ballroom in Beijing by the family members of MH370 as the families expressed dissatisfaction in obtaining details of the missing aircraft," it said in a statement released in Kuala Lumpur.
The more than 200 family members were incensed when a Malaysian government official did not come to brief them yesterday.
The meeting descended into chaos as relatives angrily confronted airline staff.
An airline spokesman said "the main MAS officials were barred from leaving the ballroom" as about 60 family members left for the Malaysian Embassy to demand information from government officials.
"The group finally released the staff today," the airline said.
Ferry victims' relatives stage protest
Dozens of relatives of passengers aboard the missing flight held an overnight protest outside the Malaysian embassy in Beijing demanding information from officials.
About two-thirds of the 239 passengers aboard the missing plane came from China.
Many of their relatives have waited with frustration at a hotel in Beijing for updates, often venting at airline or government officials who come to brief them.
"I spent the whole night outside the embassy, there are still many people waiting outside," said Wen Wancheng, whose son was on the flight.
He estimated that several dozen took part in the protest.
Steven Wang, another relative, said about 100 people had waited outside the premises overnight.
"We want somebody from the embassy to come out and tell us why they didn't come," he said.
Police fanned out around the embassy this morning, barring reporters from nearing the building.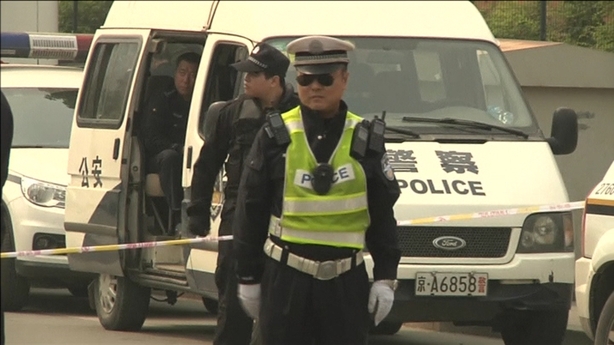 Chinese relatives have for weeks complained bitterly about what they call Malaysia's secretive and incompetent handling of the search.
Nothing has been seen of the plane or its 239 passengers and crew since it vanished off radar screens during a flight from Kuala Lumpur to Beijing on 8 March.
A multi-national search is continuing in a remote area of the Indian Ocean off Western Australia, where the plane is now believed to have crashed after veering dramatically off course.