Ukraine has called on Russia to pull troops back from the border, saying it feared pro-Russian separatists could use their proximity to provoke a Russian invasion.
"Ukraine again calls on Russia to immediately remove offensive units of the Russian armed forces from the Russian-Ukrainian border," the foreign ministry said in a statement.
It said that this would comply with Russia's obligations under last week's Geneva accord on de-escalating the crisis.
"There is a danger that armed pro-Russian militants in that part of Ukraine could use the presence of Russian troops near the frontier to provoke their entry into Ukrainian territory," the ministry said.
It said that Ukrainian troops were in the eastern regions "exclusively to protect citizens, irrespective of their ethnicity".
Their preparation for combat was a legitimate response to the threats from Russian officials of the use of force and aggression against Ukraine's territorial integrity.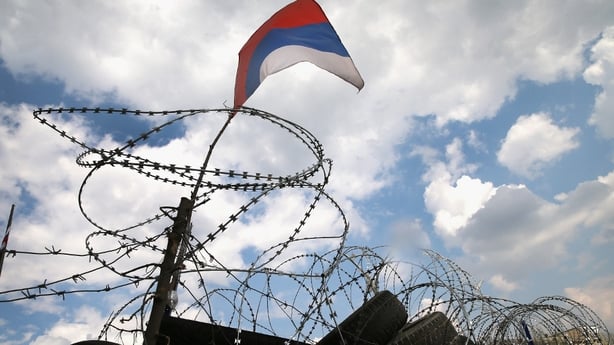 Earlier, Russia accused Ukraine and the US of distorting the agreement reached in Geneva last week.
It also accused both countries of ignoring what it said were provocative actions by Ukrainian nationalists.
Russia still believes the West is serious about seeking peace in Ukraine but "the facts speak of the opposite", the foreign ministry said in a statement.
It repeated Russia's calls for the immediate withdrawal of Ukrainian military units from southeastern Ukraine and the start of an inclusive dialogue in the former Soviet republic.
Meanwhile, Russia has conducted military exercises in its south-eastern Rostov region, which borders Ukraine, a spokesman for Russia's southern military district said.
The spokesman declined to give details on the drills.
However, Reuters footage from the exercises showed columns of military vehicles, including armoured personnel carriers, mobile multiple rocket launchers, and mobile surface-to-air missile launchers, driving in formation at a military aerodrome.
Russia accuses US of 'running the show' in Ukraine
Earlier, Russia accused the US of controlling the actions of the pro-West Ukrainian government, saying that the US was now "running the show" in Kiev.
Russian Foreign Minister Sergei Lavrov told the state-controlled RT channel that Ukraine had chosen to restart army operations against separatists in the east during a visit to Kiev by US Vice President Joe Biden.
"This means we have no reason not to believe that the Americans are running the show in the most direct way," said Mr Lavrov.
He reaffirmed Russia's belief that the Ukrainian government had failed to carry out any of its obligations under the agreement reached in Geneva last week.
"Nothing that was agreed in Geneva that the Kiev authorities had to carry out has been implemented by them," he complained.
RT's website also quoted Mr Lavrov as saying that if Russia was attacked it would respond in line with international law but did not give further details.
Relations between Russia and the West have worsened since the ousting of president Viktor Yanukovych, which Russia denounced as an illegal takeover of power.
US Secretary of State John Kerry told Mr Lavrov in a telephone call that the US would impose more sanctions on Russia if tension did not de-escalate in eastern Ukraine, a senior US official said.
The official said Mr Kerry talked to both Mr Lavrov and Ukrainian Prime Minister Arseny Yatsenyuk.
He said: "With Foreign Minister Lavrov, the secretary expressed deep concern over the lack of positive Russian steps to de-escalate. 
"[He also] cited mounting evidence that separatists continue to increase the number of buildings under occupation and take journalists and other civilians captive.
"He urged Russia to tone down escalatory rhetoric, engage diplomatically in the east with the OSCE and Ukrainian government, and issue public statements calling for those occupying buildings to disarm and stand down in exchange for amnesty."
The official said Mr Kerry also reiterated that the absence of measurable progress on implementing last week's Geneva agreement would result in increased sanctions on Russia.
In Moscow, the Russian Foreign Ministry said Mr Lavrov had told Mr Kerry that Ukraine must take urgent steps to implement the Geneva agreement.
The US official said Mr Kerry had told Mr Yatsenyuk that Ukraine must take important steps as well to de-escalate tension, "including progress on amnesty legislation, steps toward broadening the national dialogue on constitutional reform to include representatives of all regions and close coordination with the OSCE monitoring mission".
The US has said it would decide "in days" on additional sanctions if Russia does not take steps to implement the agreement.
Pro-Russia separatists confirm journalist is detained
Pro-Russian separatists in eastern Ukraine have confirmed they are detaining a US journalist working with Vice News.
The self-declared separatist mayor of Slaviansk told reporters the journalist, Simon Ostrovsky, had been detained for reporting what he said was false information that was "destabilising for us" but that he was being treated well.
Mayor Vyacheslav Ponomaryov attempted to joke about the situation.
"There's nothing wrong with Ostrovsky. He is with us, he is feeling well and in a clean place. He is not a hostage but our guest. We only gave him a place of residence."
Gunmen detained Mr Ostrovsky on Monday night along with other reporters who have since been released.
Vice News has said on its website that it is in contact with the US State Department and other government authorities to work toward securing the safety of its journalist.
US deploys troops to eastern Europe
The US also announced that it is deploying 600 troops to Poland and the three Baltic countries that border Russia.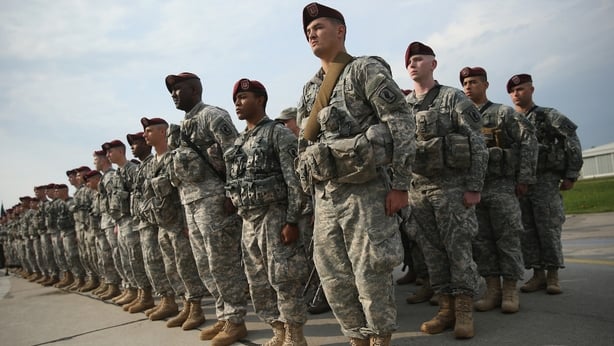 The White House says this is to fulfil what it calls its commitment to security obligations in Europe.
The first 150 troops [from the 173rd Airborne Brigade] have arrived in Poland, with an additional 450 paratroopers to be deployed in Estonia, Latvia and Lithuania in coming days.
The US troops will engage in live-ammunition training exercises with armed forces from the four former Soviet-bloc nations.