A tropical cyclone heading south over the Indian Ocean has caused the air search for a missing Malaysian Airlines plane to be suspended.
It came as a US submarine drone neared completion of its undersea search without any sign of wreckage.
The daily air and sea sorties have continued for a week since Australian authorities said they would end that component of the search for Flight MH370.
The plane disappeared on 8 March with 239 people on board.
Authorities had earlier said up to ten military aircraft and ten ships would join the day's search.
However, a few hours later they suspended the air search after Tropical Cyclone Jack moved into the area.
"It has been determined that the current weather conditions are resulting in heavy seas and poor visibility, and would make any air search activities ineffective and potentially hazardous," the Joint Agency Coordination Centre said in a statement.
The ships involved in the day's search continued with their planned activities about 864 nautical miles northwest of the Australian city of Perth.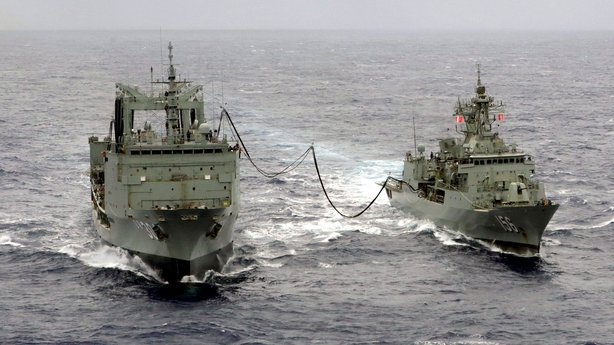 The setback occurred as the US Navy submarine Bluefin-21 was scheduled to complete its mission as soon as tomorrow with the search officials confirming the device is yet to find any sign of wreckage.
The authorities have turned up no conclusive evidence of the aircraft's ultimate location.
But they believe sonar signals, or "pings", detected in the Indian Ocean search area several weeks ago may have emanated from the plane's black box recorder.
However, after more than a week of daily sweeps of the largely unmapped stretch of ocean floor, which is 4.5km deep in places, the drone is yet to produce any sign of wreckage.
On 18 April, the Perth-based Joint Agency Coordination Centre said the Bluefin's search of the target area would likely end in as little as five days.
As the remote controlled submarine was expected to complete its ninth mission today, four days after the coordination centre gave the five-day time frame, the centre confirmed that it had covered about two thirds of its target search area and had found "no contacts of interest".
The dawning prospect of the Bluefin-21, initially seen as the search's most promising aid, completing its mission without a trace of the missing aircraft has authorities under pressure to determine which strategy to take next.