Four French journalists who were held captive in Syria for more than ten months have arrived back in France.
It comes a day after they were found blindfolded and with their hands bound at the Turkish border.
Nicolas Henin, Pierre Torres, Edouard Elias and Didier Francois beamed as they descended from a military helicopter at the Villacoublay Air Base southwest of Paris this morning.
They were greeted on the tarmac by French President Francois Hollande and their families.
French authorities have released no details of their liberation.
However, Turkey's Dogan News Agency reported that an unknown group transported the journalists on Friday night to the southeastern border of Turkey.
They were discovered by a Turkish soldier at the border.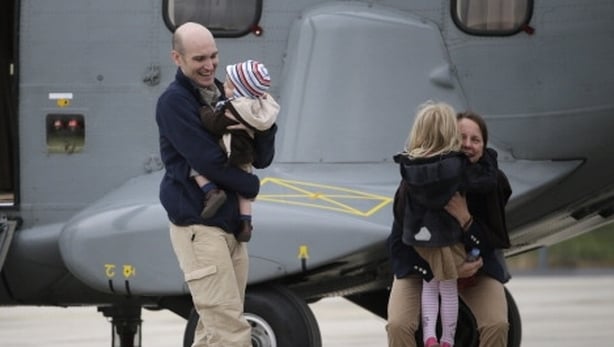 After identifying themselves as journalists, the group was taken to police headquarters in Sanliurfa province and seen by doctors, Turkish authorities said.
Neither Turkish nor French authorities would identify who had kidnapped the journalists, but Dogan reported that it was the rebel group Islamic State of Iraq and the Levant.
Syria is the most dangerous place in the world for journalists, according to the Committee to Protect Journalists.
Two French citizens remain missing after being kidnapped in Mali in 2011 and 2012.