The United States, Russia, Ukraine and European Union have together called on for an immediate halt to violence in Ukraine.
Washington immediately warned Moscow that it would face further sanctions if it did not carry out the agreement, reached in four-party crisis talks in Geneva.
Russian President Vladimir Putin, speaking in Moscow, accused Ukraine's leaders of committing a "grave crime" by using the army to try to quell unrest in the east of the country, and did not rule out sending in troops.
Mr Putin said he hoped he would not need to take such a step, and that diplomacy could succeed in resolving the standoff, the worst crisis in East-West relations since the Cold War.
The comments came hours after separatists attacked a Ukrainian national guard base overnight and Kiev said three of them were killed in the worst bloodshed yet in a ten-day pro-Russian uprising.
Ukrainian, Russian and Western diplomats held talks seeking to resolve a confrontation that has seen pro-Russian fighters seize official buildings across eastern Ukraine while Moscow masses troops on the frontier.
"All sides must refrain from any violence, intimidation or provocative actions," a joint statement issued after the Geneva talks said.
"All illegal armed groups must be disarmed; all illegally seized buildings must be returned to legitimate owners; all illegally occupied streets, squares and other public places in Ukrainian cities and towns must be vacated," it added.
"It will be a test for Russia, if Russia wants really to show willingness to have stability in these regions," said Ukrainian Foreign Minister Andriy Deshchytsia.
US Secretary of States John Kerry said there would be additional sanctions on Russia if it did not act to calm tensions in Ukraine.
"If there is not progress over the course of these next days, and we don't see a movement in the right direction, then there will be additional sanctions, additional costs as a consequence," Mr Kerry told reporters.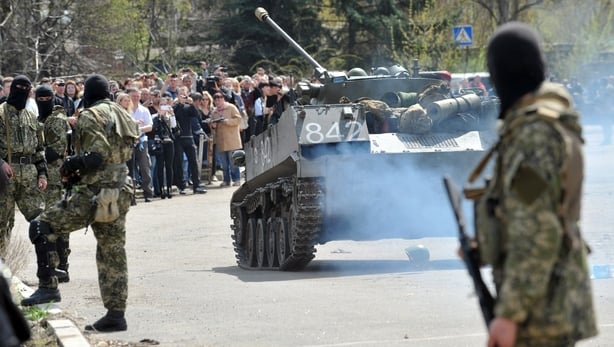 The US and EU have so far imposed visa bans and asset freezes on a small number of Russian individuals, a response that Moscow has openly mocked.
However, the Western states say they are now contemplating measures that could hurt Russia's economy more broadly.
Mr Kerry and EU foreign policy chief Catherine Ashton said the US and the EU still had a significant difference with Russia over the status of Ukraine's Crimea region, annexed by Moscow last month.
Moscow's takeover of the Black Sea peninsula followed the overthrow of Ukraine's pro-Moscow president, Viktor Yanukovich, after months of street protests prompted by his rejection of a trade deal with the EU.
Events today took place after an attack at the Ukrainian national guard headquarters in Mariupol, on the Sea of Azov.
A grey police jeep was inside the compound this morning with broken windows, flat tyres and bent doors.
The gates of the compound had been flattened. There were shell casings outside the gates and several unused petrol bombs.
Interior Minister Arsen Avakov said an armed group of about 300 separatists attacked the base with guns and petrol bombs. Three separatists were killed and 13 wounded, he said.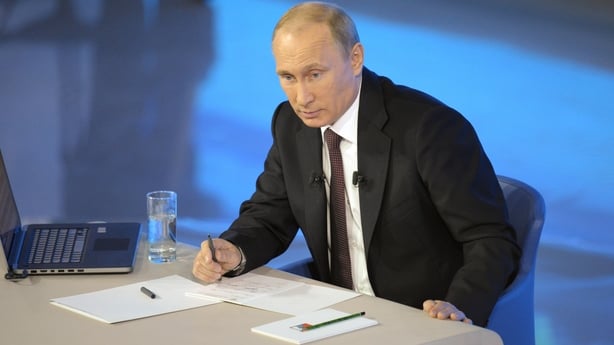 Meanwhile, separatists occupying a local government building in the city of Donetsk said they would not leave until supporters of Ukraine's new government quit their camp around Kiev's main square, known as the Maidan.
Asked how his group will react to the accord in Geneva under which illegal occupations of buildings and squares must end, Alexander Zakharchenko, a protest leader inside the Donetsk regional government building, told Reuters by telephone:
"If it means all squares and public buildings, then I guess it should start with the Maidan in Kiev. We'll see what they do there before we make our decision here."