A number of logboats, including one that is 4,500 years old, have been discovered in Lough Corrib Co Galway.
In what is being described as a " major archaeological discovery", several weapons from the Viking era were also found in the area.
The artefacts were identified following a series of dive surveys by the underwater unit from the National Monuments Service.
They were alerted to the presence of logboats by a marine surveyor, who was mapping the lake.
A total of 12 logboats one dating from 2,500 BC were identified.
It is thought one found near Carrowmoreknock may have been on a raid when it sank with a collection of 11th century weapons on board.
Three battle axes, with fully preserved handles, and two spear heads were located on the boat.
The seats were still intact on the boat when it was found and the holders for oars were also preserved. 
The boat settled into mud when it sank and was covered over the years.
A mixture of organic sediment and lake water assisted in the preservation process.
Karl Brady of the Underwater Archaeology Unit, said the boats had been aged using radio carbon dating, after samples were sent to a laboratory in Queen's University Belfast.
The axes will be at the centre of the National Museum's Battle of Clontarf exhibition, which will be launched by Minister for Arts, Heritage and the Gaeltacht Jimmy Deenihan.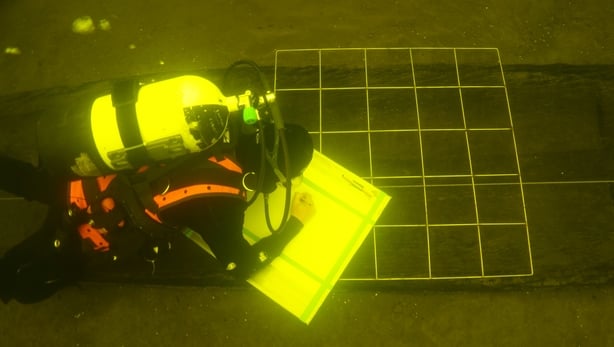 The logboats are still on the lake floor.
The Department of Arts, Heritage and the Gaeltacht has warned the public that a licence is required to dive to any of the discovery sites.
Mr Brady said moving the boats would be a delicate operation.
It is hoped that some of them will be lifted and preserved in due course, when resources are available.