Britain's Queen Elizabeth has said the Irish and British are becoming good and dependable neighbours and even better friends, in a speech during President Michael D Higgins' State visit to the UK.
The Queen gave what will be her only speech of the State visit at a banquet at Windsor Castle tonight in honour of President Higgins.
Queen Elizabeth said that Britain and Ireland shall "no longer allow our past to ensnare our future". The goal of modern British-Irish relations can be "simply stated", she said.
She added: "It is that we, who inhabit these islands, should live together as neighbours and friends. Respectful of each other's nationhood, sovereignty and traditions.
"Cooperating to our mutual benefit. At ease in each other's company.
"After so much chequered history, the avoidable and regrettable pain of which is still felt by many of us, this goal is now within reach."
President Higgins said Ireland and Britain "live in the shadow and the shelter of each other" and have gained strength from one another.
He said the two have moved on from a past where relations were often troubled, saying "it is now mutual respect and close partnership".
"While we grieve together for lost lives, we will not let any painful aspect of our shared history deflect us from crafting a future of hope", he said.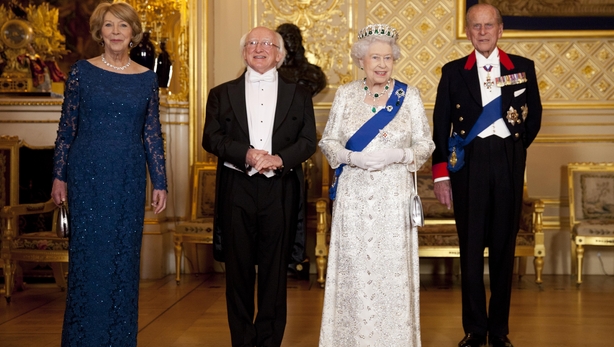 The Queen also said that as the two nations "enter a period of historical resonance, it is right to look back in remembrance".
She added: "People from Ireland were involved in all the major campaigns and battles of the war. We will remember and honour their contribution and sacrifice, just as we remember our own."
"My family and my government will stand alongside you, Mr President, and your ministers, throughout the anniversaries of the war and of the events that led to the creation of the Irish Free State."
The Queen said Britain had been "hugely enriched by the migration of Irishmen and women to these shores".
"And yet, over the years, many Irish migrants to Britain encountered discrimination and a lack of appreciation.
"Happily, those days are now behind us, and it is widely recognised that Britain is a better place because of the Irish people who live here."
She also made reference to the peace process in Northern Ireland, saying the two governments will continue to work together in Northern Ireland to support the First and Deputy First Ministers and the Executive to advance the peace process.
The Queen said she and the Duke recall their visit to Ireland "with great pleasure".
She also made a witty reference to her appearance in the London 2012 opening ceremony, saying: "It took someone of Irish descent, Danny Boyle, to get me to jump from a helicopter."
Among those in attendance at the banquet were former President of Ireland Mary McAleese, Taoiseach Enda Kenny and his wife Fionnuala, Tánaiste Eamon Gilmore and Minister for Communications Pat Rabbitte.
Also in attendance were Northern Ireland's First Minister Peter Robinson and Deputy First Minister Martin McGuinness.
British politicians in attendance included Prime Minister David Cameron, Deputy Prime Minister Nick Clegg and the leader of the Labour Party Ed Miliband.
Former Ireland international rugby player Brian O'Driscoll and his wife actress Amy Huberman were also among the 160 guests from the worlds of entertainment, arts and politics present.
Higgins addresses both houses of parliament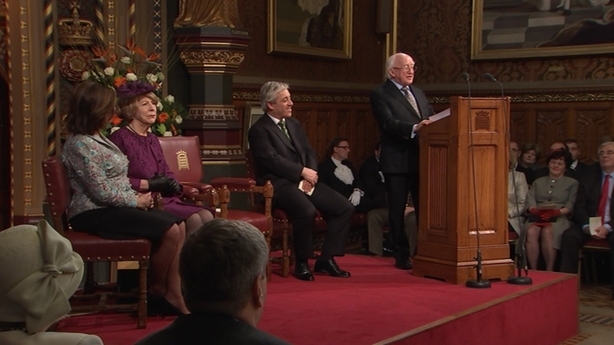 On the first day of his visit, President Higgins hailed the transformation of relations between Ireland and Britain, from a period of doubt to trust and mutual respect.
In an historic address to both houses of parliament at the Palace of Westminster, the President said relations between the two islands had achieved a great warmth.
However, there is still a road to be travelled, he said, the road of lasting and creative reconciliation.
The President told his audience that the pain and sacrifices associated with achieving independence had cast a long shadow.
However, he said things had moved from estrangement through partnership, and in recent years to the welcoming eyes of friendship.
In his speech, President Higgins said he was greatly honoured to address the parliament, a place "synonymous with the principle of democratic governance and with respect for a political discourse that is both inclusive and pluralist".
He spoke of a shared vision of citizenship by the two peoples and the pride the two countries can take "in the progress of the cause of peace in Northern Ireland".
"There is of course still a road to be travelled - the road of a lasting and creative reconciliation - and our two Governments have a shared responsibility to encourage and support those who need to complete the journey of making peace permanent and constructive," he said.
The President said the two islands have achieved a closeness and warmth that once seemed unachievable.
He said that while acknowledging that past, "we wholeheartedly welcome the considerable achievement of today's reality - the mutual respect, friendship and co-operation which exists between our two countries".
He referred to the visit of Queen Elizabeth to Ireland three years ago.
He said it "eloquently expressed how far we have come in understanding and respecting our differences, and it demonstrated that we could now look at each other through trusting eyes of mutual respect and shared commitments".
He added that the "ties between us are now strong and resolute".
"Formidable flows of trade and investment across the Irish Sea confer mutual benefit on our two countries. In tourism, sport and culture, our people to people connections have never been as close or abundant."
"Generations of Irish emigrants have made their mark on the development of this country.
"As someone whose own siblings made their home here, I am very proud of the large Irish community that is represented in every walk of life in the United Kingdom."
He added: "That community is the living heart in the evolving British-Irish relationship. I greatly cherish how the Irish in Britain have preserved and nurtured their culture and heritage while, at the same time, making a distinctive and valued contribution to the development of modern Britain."
He ended his historic speech saying: "Long may our two peoples and their parliaments walk together in peace, prosperity and ever closer friendship between Ireland and Britain."
Wreath laid at grave of unknown soldier
Ahead of the address, President Higgins laid a wreath with a tri-coloured ribbon at the grave of the Unknown Warrior in Westminster Abbey.
Earlier, Queen Elizabeth II and Prince Philip welcomed the President and his wife, Sabina, to Windsor.
The presidential couple had lunch at Windsor Castle with the royal couple, before heading back into central London.
The President also inspected a guard of honour drawn from Grenadier Guards.
There was plenty of pomp and ceremony on display as the President arrived at Windsor Castle, with more than 800 soldiers, 275 horses and the band of the Irish Guards involved in the welcome for President Higgins and his wife.
A 21-gun salute also sounded as Britain's Queen and Prince Philip greeted the President with Amhrán na bhFiann ringing out over Windsor Castle.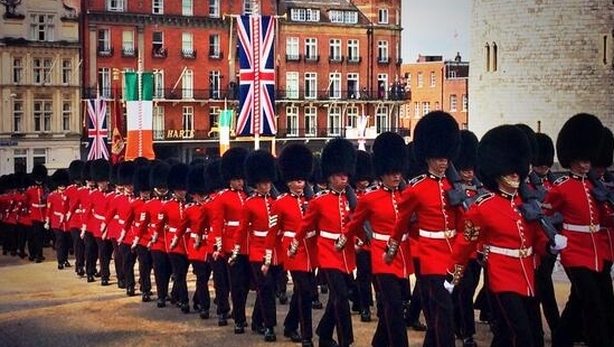 Before travelling to Windsor the President greeted Prince Charles and the Duchess of Cornwall at the Irish Embassy in London.
The President and Mrs Higgins were accompanied by Tánaiste Eamon Gilmore and his wife Carol Hanney.
The royal couple chatted with the President and Mrs Higgins, the Duchess commenting that the sun had come out in London for the visit.
Hundreds of spectators gathered on the streets of Windsor to view President Higgins and Mrs Higgins make their way to Windsor Castle.
In the course of the busy four-day programme, President Higgins will attend several functions, marking the contribution made in Britain by successive generations of Irish immigrants.
President Higgins, who is the ninth President of Ireland, is making history by becoming the first holder of the office to make a State visit to the UK.
Police and the local authority in Windsor described the Irish State visit as "one of the best attended".
The Police Commander estimated that between 6,000-7,000 people turned out in Windsor, as President Higgins travelled with the Queen through the streets at Windsor Castle.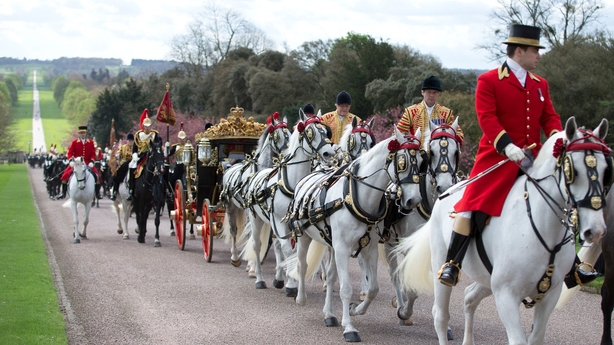 In Dublin, the Taoiseach said President Higgins' State visit to the UK is a historic day for Ireland. 
On his way into Cabinet this morning, Mr Kenny also said he is thinking today of the many Irish people who emigrated to the UK.
Separately, the leader of Sinn Féin earlier said Martin McGuinness' attendance at the State banquet tonight ensured the occasion had an all-Ireland dimension.
Gerry Adams said the event presents "political and symbolic challenges for Irish republicans" but Sinn Féin had decided through a process of consultation that it was right that Mr McGuinness would attend.
He said Mr McGuinness' contribution in the "process of change and transition" has to be seen very, very positively. 
Read our blog of day one here and view a gallery of images