A week of official mourning is under way in Rwanda to mark the 20th anniversary of the country's genocide in which at least 800,000 people died.
Rwandan President Paul Kagame lit a torch that will burn for 100 days, the length of time the genocide lasted.
Government soldiers and Hutu militia killed thousands of ethnic Tutsis during a three-month period in 1994.
Mr Kagame took a thinly-veiled swipe at France, saying it was impossible to "change the facts" about the genocide 20 years ago.
"The passage of time should not obscure the facts, lessen the responsibility, or turn victims into villains," he said in a speech during commemorations.
"People cannot be bribed or forced into changing their history, and no country is powerful enough, even when they think they are, to change the facts.
"After all, les faits sont tetus [facts are facts]," he said, saying the final phrase in French and drawing loud applause in the national stadium.
The anniversary has been marked by reminders of festering anger with a major diplomatic row breaking out over renewed allegations of French complicity in the genocide.
France had cancelled a ministerial visit in response to renewed accusations by President Kagame, and today the French ambassador was in turn barred from attending commemoration ceremonies.
The Rwandan president had said in an interview prior to the commemorations that French soldiers, who helped train the Hutu nationalist-controlled Rwandan army prior to 1994, as well as being accused of aiding the killers to escape, were both accomplices and "actors" in the bloodbath.
An estimated 800,000 people, mostly Tutsis and some moderate Hutus, died in the killings.
"Twenty years ago Rwanda had no future, only a past," Mr Kagame said.
"Today we have a reason to celebrate the normal moments of life, that are easy for others to take for granted.
"If the genocide reveals humanity's shocking capacity for human cruelty, Rwanda's choices show its capacity for renewal," he added.
In a statement, US President Barack Obama said it was a "deliberate and systematic effort by human beings to destroy other human beings".
"The horrific events of those 100 days, when friend turned against friend, and neighbour against neighbour, compel us to resist our worst instincts, just as the courage of those who risked their lives to save others reminds us of our obligations to our fellow man," he said.
The United Nations and the international community at large were heavily criticised at the time of the killings for at first failing to acknowledge genocide was taking place and then failing to stop it.
"The genocide we remember today, and the world's failure to respond more quickly, reminds us that we always have a choice," Mr Obama said.
"In the face of hatred, we must remember the humanity we share. In the face of cruelty, we must choose compassion. In the face of intolerance and suffering, we must never be indifferent," he added.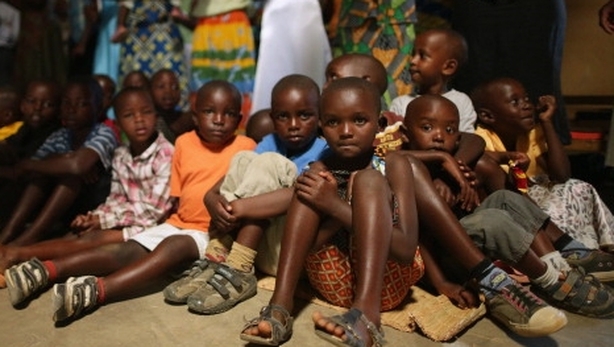 Mr Obama also hailed survivors' determination in healing old wounds and the country's progress in building economic growth to reduce poverty and in contributing to peacekeeping missions worldwide.
Official mourning began three months ago with a flame of remembrance touring the small nation from village to village.
It culminated today when the torch arrived at the national genocide memorial.
Wreathes were laid at the national genocide memorial, before ceremonies in Kigali's football stadium, with UN Secretary-General Ban Ki-moon in attendance.
Read RTÉ's Christopher McKevitt's blogs on Rwanda
Hurt and handshakes: The legacy of the Rwandan genocide