Thousands of people evacuated from Chile's low-lying coastal areas have returned home after authorities called off a tsunami alarm as damage from a massive overnight earthquake seemed mostly limited.
The major earthquake, with a magnitude 8.2, struck off the coast of northern Chile, killing six and triggering a tsunami that pounded the shore with 2m waves.
Mines in Chile, the world number one copper producer, appeared to be undamaged.
Angamos, a key copper exporting port in northern Mejillones, escaped major damage, but workers were evacuated as a precaution.
The country's president, Michelle Bachelet, declared parts of Chile's north a disaster zone, promising troops and police reinforcements to maintain order while damage was repaired after landslides blocked roads.
Ms Bachelet was scheduled to visit the affected areas later today.
Authorities were evaluating the full extent of damage.
Over 900,000 people were evacuated from the coastline along Chile.
Many still have fresh memories of a deadly February 2010 quake and tsunami that struck the country's central-southern regions fresh in its memory.
An unusually large number of tremors that preceded the quake unnerved residents, who emptied beaches, rushed to buy emergency rations, and prepared for an eventual evacuation.
The US Geological Survey said the quake was shallow at 20.1km below the seabed and struck about 100km northwest of the mining port of Iquique near the Peruvian border.
The government said it had no reports of significant damage to coastal areas.
However, around 300 prisoners took advantage of the confusion and escaped from a female prison in Iquique, Interior Minister Rodrigo Penailillo said.
About 26 of the women were recaptured, Chile's investigative police said, while security forces fanned out through the area amid reports of power outages.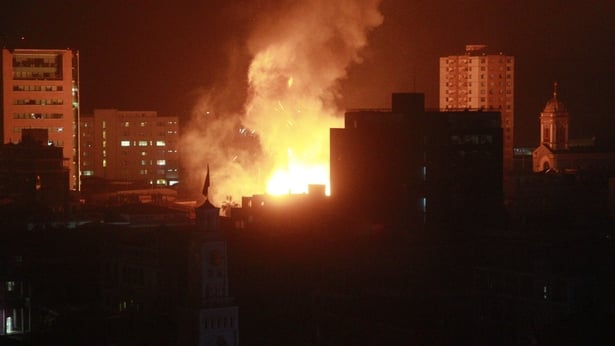 Iquique is a key copper exporting port, close to Chile's main copper mines. The area has been on high alert in recent weeks after an unusual number of tremors.
In 2010, an 526 people died after a 8.8-magnitude quake triggered a tsunami that devastated several coastal towns in central-south Chile.
Chile's ONEMI emergency office said that landslides were partially blocking some roads and highways.
A tsunami advisory has been issued for Hawaii, but no major damage is expected, US officials said.
Residents were urged to stay clear of beaches and avoid swimming in the ocean.
The advisory from the Pacific Tsunami Warning Center cautioned that possible sea level changes and strong currents could pose a danger to swimmers and boaters, although experts said they did not expect evacuations to be ordered.
              
"We're sure the waves are not going to be large enough to cause any flooding," Gerard Fryer, senior geophysicist for the center, told reporters.
"However, we're worried there may be dangerous currents so we want people off the beach and out of the water."