US Secretary of State John Kerry will meet Russian Foreign Minister Sergei Lavrov in Paris tomorrow evening for talks on the Ukraine crisis.
Mr Kerry left Riyadh early on Saturday and was due to fly home to Washington via a refuelling stop in Ireland.
However, he decided to alter his travel plans mid-flight and will go to Paris instead.
Russian President Vladimir Putin on Friday called his US counterpart Barack Obama to say he was interested in discussing a US proposal on the table to resolve the standoff over Ukraine.
Mr Obama instructed Mr Kerry to meet Mr Lavrov as soon as possible.
Mr Lavrov said earlier today that Russia had no intention of ordering its armed forces to cross over the Ukrainian border.
He insisted that the divisions between Russia and the West were narrowing.
Recent contacts had shown the outlines of a "possible joint initiative which could be presented to our Ukrainian colleagues," Mr Lavrov told Russian state television.
Elsewhere, UN Secretary General Ban Ki-moon has said Mr Putin assured him he had no intention of ordering further military incursions into Ukrainian territory.
Mr Ban made the remarks to reporters after briefing the UN Security Council on his recent talks in Moscow and Kiev, as he urged the international community to de-escalate the crisis.
He responded to a question on whether Mr Putin gave him any assurances that Russia was not planning to go into southern and eastern Ukraine after the annexation of Crimea.
Mr Putin told Mr Ban "that he had no intention to make any military move".
Mr Obama and Mr Putin discussed a proposed diplomatic solution to the crisis in Ukraine during their hour-long conversation last night.
The White House said in a statement that Mr Obama repeated that Russia must pull back its troops and not move into eastern Ukraine.
According to the Kremlin, Mr Putin called for action to curb, what it called, a continued rampage of extremists in Ukraine.
Mr Ban also said that Mr Putin "expressed his concern about some extreme radical elements and any such movement along the border lines".
"The emotions were running high and tensions have been very highly charged. Therefore my immediate priority was to urge the leaders of both (sides) to engage in direct dialogue," Mr Ban added.
"I also urged the leaders of the Ukrainian authorities to address all the domestic concerns which they may have which may also create concerns to the Russian side."
The UN chief also said he was "deeply concerned" that international divisions, with Russia and the West pitted against each other, could harm response to other conflicts and emergencies.
"At this time of heightened tension even small sparks can ignite larger flames of unintended consequences," Mr Ban said.
Meanwhile, boxer-turned-politician Vitali Klitschko has pulled out of the race for Ukrainian president.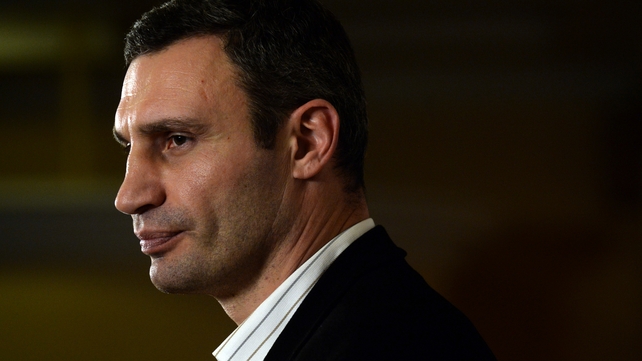 Instead, he has thrown his weight behind billionaire confectionery oligarch Petro Poroshenko.
Mr Klitschko's withdrawal sets up a contest on 25 May between the man known as the 'Chocolate King' and Ukraine's former prime minister Yulia Tymoshenko.
Mr Poroshenko, 48, confirmed his candidacy yesterday.
Several opinions polls already had him in the lead even before he said he would run to succeed ousted president Viktor Yanukovych.
Mr Poroshenko was an early and influential supporter of the popular uprising that toppled Mr Yanukovych in late February, three months after he spurned a deal on closer ties with the European Union and plunged the country of 46 million people into turmoil.
Ukrainians will vote under the shadow of Russia's annexation of Ukraine's Black Sea Crimea peninsula.
Like Ms Tymoshenko, who announced her candidacy on Thursday, Mr Poroshenko promised to strengthen Ukraine's armed forces and protect its borders.
Meanwhile, Crimea has officially moved forward two hours to Russian time.