Garda Commissioner Martin Callinan this morning announced his resignation with immediate effect.
Mr Callinan has informed the Government of his decision.
In a statement, Mr Callinan said he decided to retire "in the best interests of An Garda Síochána and my family".
He said: "I felt that recent developments were proving to be a distraction from the important work that is carried out by An Garda Síochána on a daily basis for the citizens of the State in an independent and impartial manner."
The commissioner had been under severe pressure for the past two months since his appearance at the Public Accounts Committee.
At the committee meeting, he had described as "disgusting" the actions of garda whistleblowers in downloading and disseminating personal and sensitive data from the garda's PULSE computer system.
There had been ongoing calls for Mr Callinan to withdraw that remark.
Garda whistleblowers Sergeant Maurice McCabe and retired garda John Wilson were responsible for bringing the penalty points issue into the public domain.
Deputy Commissioner Noirín O'Sullivan has taken charge of the force until the Government appoints a new garda commissioner.
Reacting to Mr Callinan's resignation, Mr Wilson told RTÉ News: "I take no pleasure in the demise of any human being.
"Martin Callinan has done this country some service throughout his long career.
"But his position had become untenable and his decision to resign was the correct one," Mr Wilson said.
Callinan resigns after 40 years in the force
Minister for Justice Alan Shatter this evening issued a statement on the retirement of Mr Callinan. 
Mr Shatter said: "I wish to pay tribute to the Garda Commissioner, Martin Callinan, on his retirement from An Garda Síochána. 
"As Commissioner and throughout his very distinguished service in the Force he has made an enormous contribution to fighting crime and I believe that this contribution will be seen as a legacy of which he can be very proud and for which the community he served are in his debt. 
"The high reputation of An Garda Síochána has been gained down through the years through people's experience of dealing with members like Martin Callinan, often at times of great difficulty. 
"I believe, at these challenging times for the Force, the men and women who serve in it will continue to enjoy the respect of the community they serve, often at great risk to themselves.
"I extend to him my sincere thanks for his dedication and service to the State throughout his long and distinguished career."
In the wake of the commissioner's resignation, Opposition TDs called on Mr Shatter to step down.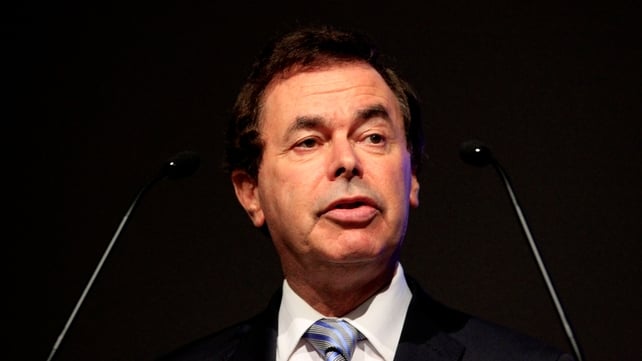 Fianna Fáil, Sinn Féin and a number of independent TDs say he can no longer remain at the Cabinet table.
Fianna Fáil leader Micheál Martin called on Mr Shatter to make a comprehensive statement to the Dáil and said his position has now become untenable.
He said he was surprised the commissioner had resigned and said he would have preferred if Mr Callinan had withdrawn his remarks regarding the whistleblowers.
Speaking on RTÉ's Today with Sean O'Rourke, Mr Martin said this was the latest depressing chapter in a long saga and Minister Shatter had to take a significant degree of the blame.
He said Mr Shatter had handled these controversies in an appalling manner and had not been fully accountable to the Dáil.
Mr Shatter had stubbornly refused to withdraw remarks he made in the Dáil, he said, when he had said that the whistleblowers had not cooperated with the official garda investigation into the penalty points issue.
There should be a proper, transparent recruitment process to choose a new garda commissioner, Mr Martin added.
Sinn Féin leader Gerry Adams welcomed today's resignation, saying that the culture Mr Callinan came to represent in the end was to attack the whistleblowers.
Mr Adams added: "I've already said that Minister Shatter has done some good things and that he clearly is a reforming minister is some regard. But in this issue, in this issue he has to go.
"If Martin Callinan has to go because his position is untenable, then the very man who defended him at every twist and turn of this should go also."
Mr Adams said recent events have highlighted the need for an independent accountable police authority to be established.
Independent TD Clare Daly also welcomed Mr Callinan's decision and said it was time for Minister Shatter to reconsider his position.
"We've been of the view for a long time that his (Mr Callinan's) position was absolutely unsustainable, so I'm glad he made the move and I hope now that Minister Shatter looks at his position," Ms Daly said.
Independent TD Mick Wallace said he was not shocked by the resignation and also raised the question of whether Minister Shatter should remain in office.
He said Mr Shatter has acted under political pressure to deal with many issues around the Garda Síochána Ombudsman Commission and the garda handling of penalty points.
"If you look back over the last 18 months, there has been so many episodes of how Minister Shatter has refused to deal in a healthy manner with the challenges that have been placed before him.
"He has not dealt well with the policing side of his ministerial responsibilities at all," Mr Wallace said.
Independent TD Finian McGrath said the controversy does not end with the resignation of the garda commissioner and said Mr Shatter has to go.
A Labour Party spokesperson this evening said that Mr Shatter is a reforming minister and Labour has every confidence in him.
Meanwhile, asked about the Tánaiste's comments yesterday that the Minister for Justice should withdraw his comments about the garda whistleblowers, Minister for Public Expenditure and Reform Brendan Howlin said the situation had moved on and the minister will be making a statement in the Dáil on Thursday.
Elsewhere, retired garda detective chief superintendent John O'Brien said he is deeply shocked and sad for Mr Callinan and his family.
He said that Mr Callinan was a very capable man who had done some great work for the State.
He said: "I think the onus is on the minister [Alan Shatter] to respond because it was very noticeable in the last two or three days that he had nothing to say in support of the commissioner."
Former assistant garda commissioner Martin Donnellan said it is about time that people stopped playing political football.
It was clear that a policing board was needed, he said.
He added that the gardaí "should be insulated without delay from any interference from the Department of Justice".
He said: "It's about time we had a policing board of people who are suitably qualified and objective in their views about what's going on in this country."
In a statement, the Association of Garda Chief Superintendents thanked Mr Callinan for his work and wished him well in the future.
It said: "In the course of a long and distinguished career in An Garda Síochána, Commissioner Callinan served the people of Ireland with commitment and dedication at all times."
The chief executive of the anti-corruption group Transparency International Ireland, John Devitt, said if Mr Callinan had not been prepared to acknowledge and recognise the impact of the current controversy on two members of his own force, and recognise the contribution they had made as whistleblowers, then his moral authority as commissioner was severely undermined.
Speaking on RTÉ's Morning Edition, Mr Devitt also said this had been undermining confidence in the force itself.
He added that Mr Callinan had done a lot of good work as commissioner, and that he would be recognised for the work he had done in tackling organised crime.