The US military has sent a black box locator and a robotic underwater vehicle to the Indian Ocean to help search for the missing Malaysia Airlines flight MH370.
The locator system, which relies on acoustic signals to track down flight recorders, and the Bluefin-21, an unmanned device that can scan the ocean's depths, were being flown to Perth, in Australia.
However, officials cautioned that the deployment of the equipment did not mean authorities had found the precise location of the Boeing 777.
If debris from the flight is confirmed, the US Navy's "Towed Pinger Locator 25 will add a significant advantage in locating the missing Malaysian aircraft's black box," Commander William Marks, a spokesman for the US Seventh Fleet, said.
The locator system relies on acoustic signals to help find flight recorders - also known as black boxes - on downed navy and commercial aircraft to a maximum depth of 6,000 metres.
At crash sites, finding the black boxes soon is crucial because the locator beacons they carry fade out after 30 days.
The Australian Maritime Safety Authority said the air and sea search for MH370 has been suspended due to bad weather.
This afternoon, Malaysian Prime Minister Najib Razak said the plane that disappeared over two weeks ago crashed in the southern Indian Ocean.
New satellite analysis from Britain had shown that Flight MH370, with 239 people on board, was last seen in the middle of the Indian Ocean west of Perth, he said in a statement.
"This is a remote location, far from any possible landing sites," Mr Najib said.
"It is therefore with deep sadness and regret that I must inform you that, according to this new data, Flight MH370 ended in the southern Indian Ocean."
Mr Najib added that the families of those on board had been informed of the developments.
Malaysia Airlines reportedly told the relatives that it believes the plane went down with no survivors.
"Malaysia Airlines deeply regrets that we have to assume beyond any reasonable doubt that MH370 has been lost and that none of those on board survived," it said in a text message to relatives, the BBC reported.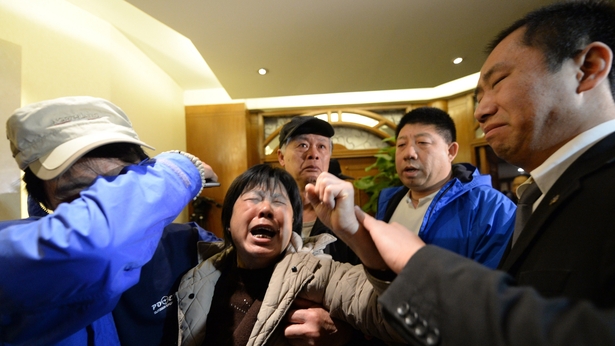 Speaking after the announcement, French investigators said it is too soon to consider launching undersea searches for the remains of the plane.
France's BEA accident investigation service, which had sent three investigators to Kuala Lumpur, said the "extremely vast areas [involved] do not make it possible at this stage to consider undersea searches".
"An undersea phase to localise the aeroplane from flight MH370 could be launched only if the operations under way today enable a more limited search area to be defined than the current search areas," the BEA said in a statement.
It said its investigators, who had returned from Kuala Lumpur at the weekend, had discussed possible techniques for undersea searches with Malaysian authorities.
In particular they discussed "their experience ... acquired during the search between 2009 and 2011 for the wreckage of Rio-Paris flight AF447," it said.
It took 23 months for BEA investigators to find the wreckage of the Air France flight after it went down in the Atlantic in 2009.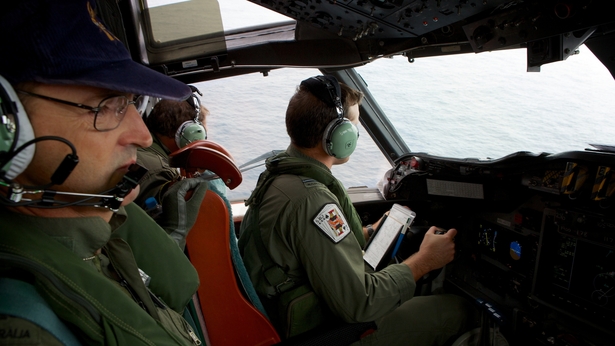 An Australian navy ship was earlier said to be close to finding possible debris from the jetliner after a mounting number of sightings of floating objects that are believed to be parts of the plane.
The objects, described as a "grey or green circular object" and an "orange rectangular object", were spotted this afternoon, Australian Prime Minister Tony Abbott said.
He added that three planes were also en route to the area.
Flight MH370 vanished from civilian radar screens less than an hour after taking off from Kuala Lumpur for Beijing on 8 March.
No confirmed sighting of the plane has been made since and there is no clue what went wrong.
Attention and resources in the search for the Boeing 777 had shifted from an initial focus north of the Equator to an increasingly narrowed stretch of rough sea in the southern Indian Ocean, thousands of kilometres from the original flight path.
Earlier today, Xinhua news agency said a Chinese Ilyushin IL-76 aircraft spotted two "relatively big" floating objects and several smaller white ones dispersed over several kilometres.
Over 150 of the passengers on board the missing plane were Chinese.
Investigators believe someone on the flight shut off the plane's communications systems.
Partial military radar tracking showed it turning west and re-crossing the Malay Peninsula, apparently under the control of a skilled pilot.
That has led them to focus on hijacking or sabotage, but investigators have not ruled out technical problems.
Faint electronic "pings" detected by a commercial satellite suggested it flew for another six hours or so, but could do no better than place its final signal on one of two vast arcs north and south.