European Union leaders have agreed to step up moves to cut energy dependency, notably on Russia after events in Ukraine.
EU Council president Herman Van Rompuy said the bloc's 28 leaders had agreed at a two-day summit to outline an energy security framework at their next top-level meeting in June.
Earlier, the EU and Ukraine signed the core elements of a political association agreement, committing to the same deal former president Viktor Yanukovych rejected last November.
The core chapters of the Association Agreement were signed on the sidelines of an EU summit in Brussels.
The deal commits Ukraine and the EU to closer political and economic cooperation.
However, more substantial parts of the agreement concerning free trade will only be signed after Ukraine has held new presidential elections in May.
European Council President Herman Van Rompuy said the agreement would bring Ukraine and its 46 million people closer to the heart of Europe and a "European way of life".
"(This) recognises the aspirations of the people of Ukraine to live in a country governed by values, by democracy and the rule of law, where all citizens have a stake in national prosperity," he said.
Two sets of the documents were passed around the table for the EU's leaders and Ukrainian Prime Minister Arseny Yatsenyuk to sign.
Mr Van Rompuy and Mr Yatsenyuk then shook hands and exchanged the documents to applause, witnesses said.
Speaking after the summit, British Prime Minister David Cameron said if Russian troops went into eastern Ukraine that would trigger far reaching consequences.
Mr Cameron said the referendum in Crimea was a sham carried out at the end of a Kalashnikov.
He said the best rebuke to Russia is a strong and successful Ukraine.
Coinciding with the signing in Brussels, Russia's upper house of parliament unanimously approved a treaty annexing Ukraine's Crimea region, clearing the way for President Vladimir Putin to sign it into law.
Mr Yanukovych turned his back on signing the EU agreement last November in favour of closer ties with Moscow, prompting months of street protests that eventually led to his fleeing the country.
Soon afterwards, Russian forces occupied Crimea, drawing outrage and sanctions from the United States and EU.
As well as the closer political ties, the European Commission has agreed to extend nearly €500m worth of trade benefits to Ukraine, removing customs duties on a wide range of agricultural goods, textiles and other imports.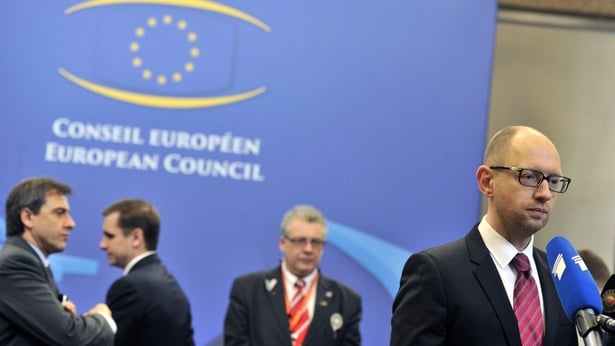 Once Ukraine has held presidential elections on 25 May and a new administration is in place, the EU plans to move ahead with signing a free-trade agreement with Ukraine, giving the country unfettered access to the EU's market of 500 million consumers.
That has far more potential to strengthen Ukraine's shattered economy, but also runs the risk of provoking retaliatory steps from Russia, which has already imposed stricter customs checks on trade with Ukraine.
The other burden for Kiev is meeting the obligations that come with EU political association, including instituting changes to the rule of law and justice, and adopting business and environmental standards that will require hard work and long-term investment to meet.
The International Monetary Fund is to report next Tuesday on advanced talks with Ukraine on a loan programme that would be linked to far-reaching reforms of the shattered economy.
In one glimmer of diplomatic progress, Russian Foreign Minister Sergei Lavrov said an agreement was near on sending a monitoring mission by the pan-European OSCE security watchdog.
The EU had threatened to send its own monitors if Moscow continued to block a mandate at the Organisation for Security and Cooperation in Europe.
France suspends military cooperation with Russia
France is suspending military cooperation with Russia, French Defence Minister Jean-Yves LeDrian said during a trip to Baltic states designed to reassure them as tension mounts with Russia over its seizure Crimea region.
He said the suspension would concern joint military exercises but said nothing about the fate of contracts to supply Mistral helicopter carriers to Russia.
Yesterday, Mr Le Drian had said such a decision would not be taken until October.
He is on a visit to the Baltic states of Lithuania and Estonia and then Poland, with the aim of offering them reassurances on security.
His announcement came at the same time as a German economy ministry spokesman said Germany had decided to suspend approval of all defence-related exports to Russia.
Mr Le Drian also said France could send four planes to Lithuania on protection duty if NATO decides to boost air defences over the Baltic states, which are now also members of the Western military alliance.
The French offer would come on top of a NATO mission that has offered air policing for the past decade and follows a US offer to provide extra aircraft.