Rescue authorities are continuing to study satellite data for more clues in the hunt for missing Malaysia Airlines Flight MH370, after an air and sea search in the remote Indian Ocean off Australia failed to find any trace of a suspected debris field.
Australia rushed four international aircraft to an area some 2,500km southwest of Perth when analysis of satellite images identified two large objects that may have come from the Boeing 777, which went missing from radar screens 13 days ago with 239 people aboard.
Investigators suspect the Malaysia Airlines flight, which took off from Kuala Lumpur for Beijing shortly after midnight on 8 March, was deliberately diverted thousands of kilometres and then crashed into some of the deepest, most isolated waters on the planet in a possible suicide.
Rescue authorities cautioned that the objects spotted on the satellite images, dated 16 March, might not be related to the transcontinental search for the plane but said the find represented the best lead yet.
Four aircraft would resume the search of the 23,000sq km zone on Friday, the Australian Maritime Safety Authority said.
A Norwegian merchant ship that had been diverted to the area on Thursday was still searching there. Another vessel would arrive later on Friday.
Acting Prime Minister Warren Truss said Australia continued to examine satellite footage to pinpoint the location of the suspected debris, which included a piece estimated from the satellite imagery to be 24 metres long.
"Clearly, there's a lot of resources being put into that particular area. It's broadly consistent with the flight plans that were talked about ever since the satellites and their work has been added to the information bank," Mr Truss told ABC radio.
"That work will continue, trying to get more pictures,stronger resolution so that we can be more confident about where the items are, how far they have moved and therefore what efforts should be put into the search effort."
Strong winds, cloud and rain had made searching difficult,said Kevin Short, air vice marshal at New Zealand's Defence Forces which sent a P-3K2 Orion to search the area on Thursday.
"The crew never found any object of significance," he told Radio New Zealand. "Visibility wasn't very good, which makes itharder to search the surface of the water," he said.
A nearby desolate group of French-administered sub-Antarctic islands including St Paul and Amsterdam and Kerguelen had been asked to look for debris, but none had been spotted, said Sebastien Mourot, chief of staff for the French prefect of La Reunion.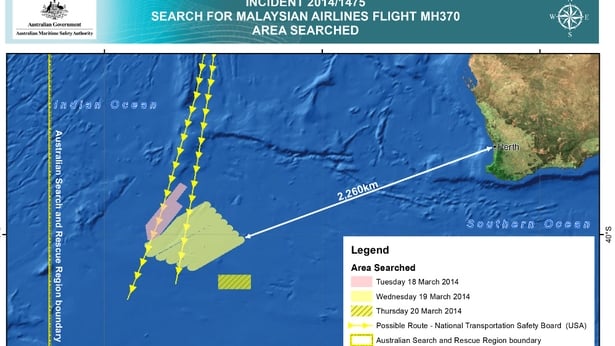 No confirmed wreckage from the plane has been found.
Sketchy radar and satellite data had resulted in investigators proposing two vast search corridors, stretching south into the Indian Ocean and north over south and central Asia.
Most analysts had favoured the maritime southern corridor, pointing out the unlikelihood of the airliner passing undetected over nearly a dozen countries.
But the international search has been marked by numerous false leads and Mr Abbott sought to temper expectations.
"We must keep in mind the task of locating these objects will be extremely difficult and it may turn out that they are not related to the search for flight MH370," he said.
Chinese relatives refuse to abandon hope
Meanwhile, the families of Chinese passengers aboard the missing flight have insisted that their loved ones could still be alive.
Wen Wancheng refused to accept the announcement meant he had lost his son, who was a passenger on the flight.
"My son is still alive," said the 63-year-old. "I don't believe the news."
There are 153 Chinese citizens on board flight MH370, whose relatives have been waiting for news at the Lido hotel in Beijing.
Zhao Chunzeng, who declined to identify his relative on board, said families were seeking a confirmed discovery.
"We are waiting, just waiting and we can't respond to news until it is definitely confirmed," he said.
AMSA search operations for #MH370 have been completed for today, the search will continue in the morning. More here http://t.co/PQ7XndbKLQ

— AMSA News (@AMSA_News) March 20, 2014