Four people, including Northern Ireland businessman Edward Haughey, have died after a civilian helicopter crashed in thick fog in Britain.
A former member of the Seanad, he was appointed by former taoisigh Albert Reynolds and Bertie Ahern.
Tánaiste Eamon Gilmore said: "He was a visionary businessman and a leading employer who brought many high-quality jobs to Newry in particular.
"Today Seanad Éireann and the House of Lords are joined by the loss of a man who served in both Chambers and whose interests and influence spanned both sides of the border."
Seanad Cathaoirleach Senator Paddy Burke said he was saddened to hear of Dr Haughey's death.
He said he knew him as a "fine and honourable man, who served with great integrity, foresight and distinction".
Dr Haughey was killed with three other men when a helicopter came down in thick fog in a field in Gillingham, near Beccles, Norfolk, at 7.30pm yesterday.
Dr Haughey, later Lord Ballyedmond, was the richest man in Northern Ireland. His personal fortune was worth €1bn according to The Sunday Times newspaper's Rich List 2013.
He was chairman of Norbrook Laboratories, the largest privately-owned pharmaceutical company in the world.
Norbrook Laboratories employs over 1,700 people.
According to the UK Register of Lords' Interests, the 70-year-old owned Gillingham Hall, a stately home near the crash site.
Dr Haughey was made a life peer as Baron Ballyedmond of Mourne in 2004.
The United States government issued a statement saying it was deeply saddened to learn of the death of Lord Ballyedmond and others as a result of the helicopter accident.
It said: "His achievements brought significant employment to Northern Ireland and in other places around the world, while his philanthropic endeavours helped improve the quality of life of countless others."
Former Northern Ireland economy minister Reg Empey said Dr Haughey had brought quality employment during the "darkest days" of The Troubles.
"This tragic accident has cut short the life of a man who had still much to give," he said.
Ulster Unionist MLA Danny Kennedy said Dr Haughey built a world class business from scratch and at the same time managed to base it locally.
"He will be sadly missed throughout the business community in Northern Ireland and wider afield. I offer my deepest sympathies to Lady Mary and the children," he said.
South Down SDLP MP Margaret Ritchie said Dr Haughey was unique.
Ms Ritchie said: "He was a major employer in the Co Down area and invested a lot of money."
She said there were unconfirmed reports another person killed in the helicopter was a young man from Mayobridge in Co Down, close to Newry where Norbrook is based.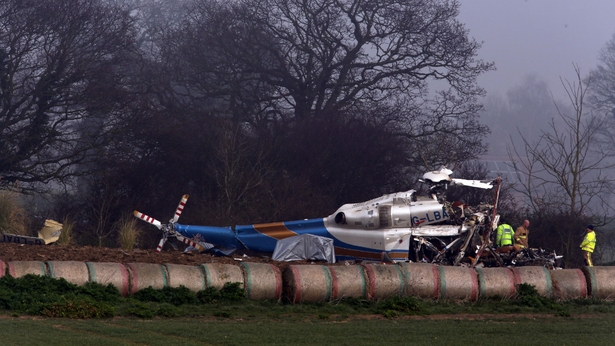 The Air Accidents Investigation Branch sent a team to investigate the crash.
Norfolk Police said the crash site will remain cordoned off today while officers continue a forensic examination of the scene. Roads in the area have been closed.
The scene is 72km from the spot where four crew members died when a US military helicopter crashed on a training mission in a nature reserve in Cley-next-the-Sea, Norfolk.
In January, a Pave Hawk from RAF Lakenheath was taking part in a low-flying training exercise when it came down.
Residents described hearing a "'heavy and very unusual" noise from the helicopter seconds before the crash, in which all four US crew members were killed.