As world leaders try to determine the fate of Crimea, Russia and pro-Russia local officials have taken a series of crucial steps that have laid the groundwork for the Ukrainian region's annexation.
Experts say that in less than two weeks, Russian forces and pro-Kremlin militias have already changed the reality on the ground; essentially separating Crimea from the rest of Ukraine.
"There has been a very rational plan. Step-by-step they have been cutting off Crimea from the rest of Ukraine, preparing it for annexation," said Kiev-based political analyst Volodymyr Fesenko.
"All of this has been in preparation for the next step, the referendum, to legitimise the annexation," he said.
Here are the five steps taken that, barring a change of heart by Russia under diplomatic pressure, have made Crimea's secession largely a foregone conclusion.

1. Install a puppet government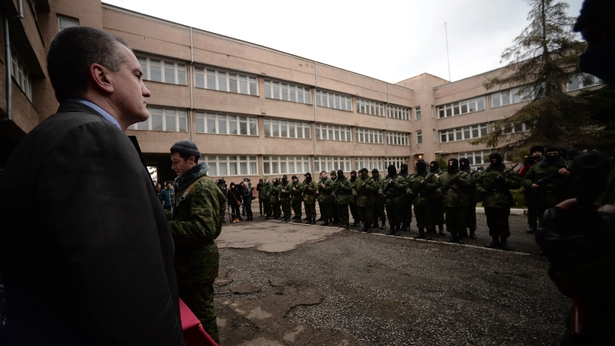 Five days after the ouster of pro-Moscow president Viktor Yanukovych in Kiev, pro-Russian gunmen seized parliament and government buildings in the Crimean capital Simferopol, raising the Russian flag.
Pro-Russian politician Sergiy Aksyonov was quickly chosen as the new interim prime minister and politicians voted to join Russia and hold a referendum on 16 March.
As well as taking over the police, the new authorities are backed by "self-defence" militias and have started swearing in soldiers for their own military.

2. Take control on the ground
Thousands of Russian troops, many apparently from Russia's Black Sea Fleet already based in Crimea, quickly deployed across the peninsula after the government was in the hands of pro-Russia forces.
Ukrainian border guards said this week up to 30,000 Russian forces were now in the region.
The soldiers, professionally equipped but wearing no official insignia, surrounded Ukrainian military installations. The soldiers inside refused to surrender or leave, but are no match for their Russian counterparts.
A few warning shots have been fired, but so far there has been no major violence.
Russia's Black Sea fleet has meanwhile blockaded Ukrainian Navy ships in the historic port of Sevastopol. Russian forces have even sunk three of their own vessels into a lake off the Black Sea to block Ukrainian ships.

3. Cut off borders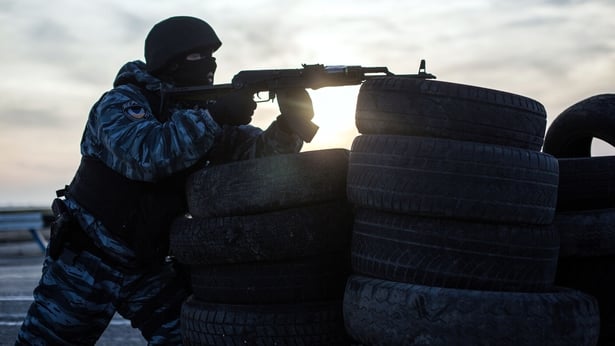 Crimea, which juts out into the Black Sea from the southern Ukrainian mainland, was relatively easy to cut off from the rest of the country.
Within days of arriving, Russian forces set up checkpoints along the only two major roads leading onto the peninsula, with signs the installations were set to become permanent, including posters warning of landmines.
Flights to Kiev out of Simferopol airport were switched to the international terminal and militia members deployed to inspect passengers arriving on incoming trains.

4. Control communications
To control the flow of information into Crimea, six Ukrainian television channels were taken off the air this week, replaced with Russian channels.
Ukrainian and foreign journalists have faced increasing pressure and in some cases violence, including when five Ukrainian reporters were severely beaten by pro-Russian militia while covering an attempt to seize an air force base.

5. Hold a referendum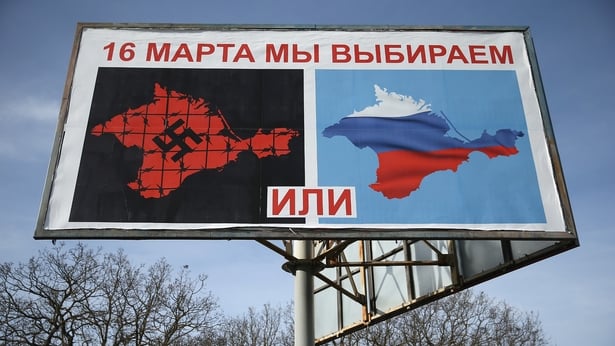 Sunday's referendum will ask whether residents want to become part of Russia or if Crimea should return to the wide autonomy it enjoyed under a previous 1992 constitution, which gave it de facto independence.
The status quo of Crimea as an integral part of Ukraine is not an option.
Despite widespread scepticism, pro-Ruusia officials have said the vote will be held fairly, adding that they have no doubt the vast majority of residents will back joining Russia.
"After that," Mr Fesenko said, "Crimea will either be quickly absorbed into Russia, which would be a major challenge to regional and international security, or it will become something similar to Abkhazia, a frozen conflict."