US President Barack Obama has urged Russian President Vladimir Putin to accept the terms of a potential diplomatic solution to the Ukraine crisis during in a late-night hour-long phone call.
In their second phone conversation in the past six days, Mr Obama emphasised to Mr Putin that Russia's incursion into Ukraine was a violation of Ukraine's sovereignty and territorial integrity, the White House said.
During the call, Mr Obama outlined the terms of a diplomatic "off-ramp" that US officials are promoting.
Under terms of the deal, Russia would pull back troops to bases in Crimea, allow international monitors in to ensure the rights of ethnic Russians are respected and consent to direct talks with Ukraine officials.
"President Obama indicated that there is a way to resolve the situation diplomatically," the White House said in a statement.
Earlier today Crimea's parliament voted to join Russia and its Moscow-backed government and set a referendum for 10 days' time.
The sudden acceleration of moves to bring Crimea, which has an ethnic Russian majority and has effectively been seized by Russian forces, formally under Moscow's rule came as EU leaders held an emergency summit groping for ways to pressure Russia to back down and accept mediation.
The EU condemned Russian actions in Crimea as illegal, voiced support for Ukraine's territorial integrity but took only minor steps suspending talks with Moscow on visas and a new investment pact while warning of tougher steps if there is no negotiated solution within a short period.
In a signal to Moscow, Mr Obama announced plans to punish Russians and Ukrainians involved in what he called "threatening the sovereignty and territorial integrity of Ukraine".
A US official said Russian President Vladimir Putin was not on the list of those to be sanctioned.
"The proposed referendum on the future of Crimea would violate the Ukrainian constitution and violate international law," Mr Obama told reporters at the White House.
"Any discussion about the future of Ukraine must include the legitimate government of Ukraine."
After talks in Rome, US Secretary of State John Kerry said Foreign Minister Sergei Lavrov was personally delivering proposals to Mr Putin to end the crisis in Ukraine.
"We have agreed to stay in close touch in order to see if there is a way forward to try to get to a negotiating table to get the parties necessary to be able to stabilize this," Mr Kerry said.
Mr Kerry said the executive order on sanctions signed by Mr Obama provided a legal framework for imposing sanctions but also left open the door for dialogue over Ukraine.
The Pentagon meanwhile announced a large-scale air force exercise in Poland which Washington's ambassador to Warsaw said had been augmented to reassure US allies in the region in the light of the Ukraine crisis.
Ambassador warns of retaliation for any sanctions
Russian Ambassador to Ireland Maxim Peshkov has warned that Russia will retaliate if sanctions are imposed on it over the crisis in Crimea.
Speaking to RTÉ's Six-One News, Mr Peshkov said Russia was "not afraid of sanctions", which he described as a "double-edged sword".
He warned that it would be "very painful for those who will try to apply these sanctions against Russia". It would be a "big strike" against economies on both sides.
Meanwhile, former taoiseach and former EU ambassador to the US John Bruton has said the demonstrations by the people of Ukraine in support of the EU are threatening the position of Russian President Vladimir Putin.
Mr Bruton said Ukrainian support for the EU threatens the oligarchic position of Russian governments and previous Ukrainian governments.
Meanwhile, the Ukrainian political leader and former boxer Vitaly Klitschko has said the people of Ukraine are now fighting for their future and need support.
Speaking at the EPP congress in Dublin, he said provocation is taking place in Ukraine and the Ukrainian army has behaved professionally and non-violently.
He said he wants transparent elections to take place on 25 May and he wants to build Ukraine as a strong and modern country.
Speaking at a news conference at the EPP congress Mr Klitschko said his goal is to solve the current conflict in Ukraine in a peaceful way, without any drop of blood.
He said his ideal is to build a new Ukraine with European standards of life and law and human rights and equal opportunities for everybody.
To achieve this, he said, he knows more than most "if you don't fight you don't win".
Ms Tymoshenko described Russia's actions in Ukraine as a "very cruel invasion".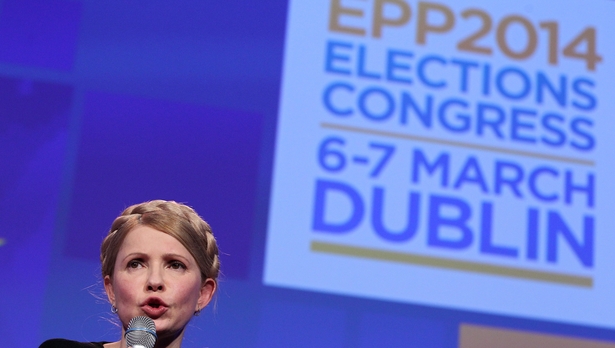 Speaking in Dublin she said the Kremlin must realise that Ukraine is a state and not a territory, and not a colony that can be driven to a cage.
She said no one wants a new Cold War but she said action is needed as is a strong Europe.
Read RTÉ Europe Editor Tony Connelly's blog - Crimea on a knife edge