Ukraine's parliament has agreed the country should be led by a coalition government and has approved former economy minister Arseny Yatsenyuk to lead it as prime minister.
"Our country is on the brink of economic and political collapse," he told parliament after his nomination.
He also warned that Ukraine faced threats to its territorial integrity and promising to pursue European integration.
Mr Yatsenyuk said the government would have to take unpopular decisions to guide the country through an economic crisis.
In his speech, he charted a course towards the European Union and urged Russia to cooperate with Ukraine following the ouster of President Viktor Yanukovych.
"There is no other way out for us than to take extremely unpopular decisions," he said.
His speech received loud applause.
The parliament later approved Mr Yatsenyuk's nomination as prime minister.
Earlier, Mr Yanukovych said he is still the legitimate president of Ukraine and people in the country's southeastern and southern regions would never accept the "lawlessness" brought by leaders chosen by a mob.
Russian news agencies quoted a statement by Mr Yanukovych as saying he had asked Moscow to guarantee his personal safety.
"I, Viktor Fedorovich Yanukovych ... consider myself the lawful head of the Ukrainian government," he said.
Russia has also reportedly agreed to ensure Mr Yanukovych's personal safety.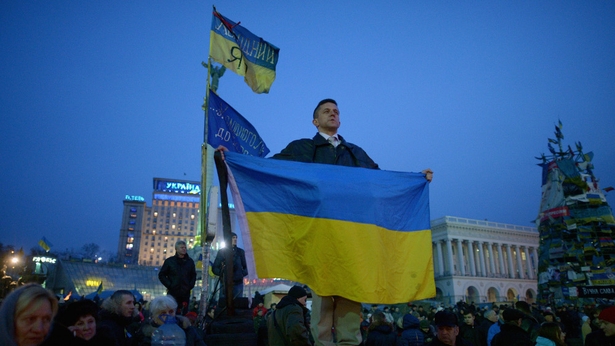 NATO Secretary-General Anders Fogh Rasmussen has said he was concerned about developments in Ukraine's Crimea and urged Russia not to do anything that would "escalate tension or create misunderstanding".
Armed pro-Russian gunmen are in control of the parliament and government headquarters in Crimea, the regional prime minister has said.
Armed and ready Russian soldiers seen at Moscow House, the Russian cultural centre in Sevastopol #Crimea #Ukraine pic.twitter.com/d8HkiGZv3W

— Tony Connelly (@tconnellyRTE) February 27, 2014
Crimean premier Anatoliy Mohilyov confirmed that up to 50 men with weapons seized the buildings during the night, raised the Russian flags over them and were blocking government workers from entering.
Local authorities were preparing to "take measures", Mr Mohilyov said without adding any more details.
Ukrainian police and interior ministry troops have been put on alert after the events in Simferopol.
Interim president Oleksander Turchynov said any Russian military troop movements outside of its Black Sea base in Crimea would be seen as an act of aggression.
The Russian defence ministry has said it has put fighter jets on combat alert on its western borders.
It said: "Constant air patrols are being carried out by fighter jets in the border regions.
"From the moment they received the signal to be on high alert, the air force in the western military region left for the air bases."
Russia's deterrent? Nikolai Valuyev former boxer & now Russian MP arrives in Sevastopol to "support" Russian speakers pic.twitter.com/UR9VWUmOFy

— Tony Connelly (@tconnellyRTE) February 27, 2014
The move comes a day after Russian President Vladimir Putin put 150,000 troops on high alert in a show of strength.
Mr Putin ordered soldiers to be ready for war games near the border with Ukraine.
Russia's foreign ministry said it will abide by treaties regarding its Black Sea fleet in Ukraine's Crimea region.
"Regarding the statements about Russia's violation of the agreements on the Black Sea fleet, we declare that in the current difficult situation the Russian Black Sea fleet is strictly adhering to said agreements," Russian agencies quoted a foreign ministry spokesman as saying.
The UN Security Council's current president, Lithuania, has urged Russia to start direct talks with Ukraine on the crisis in Crimea to avert a regional conflict.
Linas Linkevicius also urged Russia "to play a responsible and crucial role". If Moscow "does not stop the ongoing provocation, the situation may escalate and lead to a regional conflict no one wants," he added.
The first republic to break free from the Soviet Union in 1990, Lithuania played a key role in efforts to seal an EU association pact with Ukraine during its stint as EU president last year.
Deposed Ukrainian president Viktor Yanukovych rejected the agreement at the summit in Lithuanian capital Vilnius in November in favour of an aid deal with Russia, sparking the civil unrest that led to his ouster at the weekend.
Mr Linkievicius said he thought the EU-Ukraine deal could be signed before a presidential election in May.
Lithuania in January started a two-year term on the UN Security Council, and took over its rotating presidency for February.
Meanwhile, Ukraine's new leaders have warned of "unpopular steps" to stabilise the country.
The new ministers were announced to the crowd in Independence Square in Kiev last night.
The square was the scene of some of the most violent clashes in the turmoil that led to the ousting of Mr Yanukovych as president.
Mr Turchynov, who is also speaker of the parliament, was named interim president in place of Mr Yanukovych at the weekend.
He warned the crowd that the new government will have to take some unpopular decisions.
"I want to say this government will have to pass unpopular decisions. Not those decisions that populists were shouting about," he said.
"These will be the decisions that will stop Ukraine from defaulting, decisions that will regain the trust of investors and creditors, decisions that will provide a normal life for the Ukrainian people.
"The government will be criticised, treated like dirt, they will be beaten, but they must fulfil their obligations and work to the bone for the sake of Ukraine."
My driver in Sevastopol says Russian tanks are on the way from Eupatoria on the Black Sea coast to Simferopol #Crimea

— Tony Connelly (@tconnellyRTE) February 27, 2014
Mr Yatsenyuk told the BBC that the main challenge was to stabilise the country.
"We are on the brink of a disaster and this is the government of political suiciders. So welcome to hell," he said.
Follow RTÉ's Tony Connolly in Crimea on Twitter @tconnellyRTE