Minister for Justice Alan Shatter has said he decided to sack Confidential Recipient Oliver Connolly because his office was not fulfilling the objective for which it was established.
Mr Connolly was sacked by Minister Shatter following claims of an inappropriate conversation with another whistleblower, Sergeant Maurice McCabe.
In a statement, Mr Shatter said he had become increasingly concerned after an alleged tape and transcript of a confidential conversation between Mr Connolly and another whistleblower, Sergeant Maurice McCabe, was placed on the Dáil record.
"Contacts with Mr Connolly over the following two weeks did not satisfy me as to his response to the controversy," he said.
"I informed him that in the context of his failure to unequivocally repudiate the content of the alleged conversation or take the necessary action to restore public confidence in the office of Confidential Recipient, I believed his position was untenable and I had no alternative but to relieve him of the position."
Mr Shatter said he was working with Minister for Public Expenditure Brendan Howlin to amend the Protected Disclosures Bill which would enable GSOC to operate within the architecture of the Bill and receive and investigate whistleblower allegations. 
This is intended to replace the existing Confidential Recipient system. The Bill is currently before the Dáil and is expected to be enacted in the coming weeks.
Mr Shatter said has said that interim arrangements will be made to fill the Post of Confidential Recipient by the appointment of a retired judge.
Earlier today, Taoiseach Enda Kenny said he would examine documents that contain "very serious allegations" about garda investigations "very carefully indeed".
He said the documents he received last night from Fianna Fáil leader Micheál Martin are being examined and that the allegations were "very grave".
He said Mr Martin was "right to hand over the documents", adding anyone in possession of similar information should make it known.
The allegations relate to a period from 2007 to 2009.
Yesterday, Mr Martin held a press conference saying he was in possession of documents that allege a series of murders, abductions and serious assaults, which he said were provided to him by a garda whistleblower.
The cases include the garda handling of the case of the murder of Sylvia Roche Kelly, and in particular how her killer came to be out on bail at the time for a previous offence.
It also includes a number of assault cases said not to have been properly investigated; garda conduct in the case of the false imprisonment and abduction of a young woman; and alleged cases where garda records were tampered with.
Seven TDs say Shatter's position untenable
Seven independent TDs have said the position of Minister Shatter is untenable.
The TDs include Shane Ross, Finian McGrath, Catherine Murphy, John Halligan, Róisín Shortall, Thomas Pringle and Mattie McGrath.
United Left TD Joan Collins has also said his position was untenable.
Lucinda Creighton of the Reform Alliance, independent TD Maureen O'Sullivan and Senator Feargal Quinn, who were also at the launch today of Mr Ross's bills to take judicial and senior gardaí appointments away from the Government, did not call on Mr Shatter to resign.
Ms Creighton said she would like to hear an explanation from Minister Shatter on the removal of the Garda Confidential Recipient.
She said she was more interested in accountability than "heads on plates".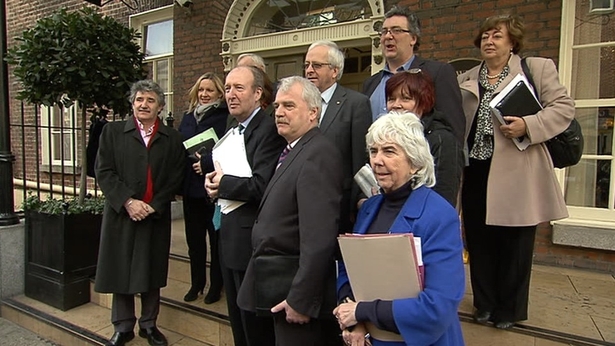 Earlier, Minister for Social Protection Joan Burton said the Government has confidence in Mr Shatter.
She was responding to Mr Martin who put it to her that Minister Shatter knew about a number of cases highlighted by the garda whistleblower for two years.
Gardaí have 'nowhere to turn' - John Wilson
Mr Wilson said gardaí who want to report wrongdoing in the force now have nobody to turn to, following the dismissal of Mr Connolly.
Last night, the Government said it planned to change the law to allow the Garda Ombudsman Commission to accept reports of wrongdoing from members of the force.
But Mr Wilson said this would take a considerable length of time.
He urged garda whistleblowers to make their concerns known to members of the Oireachtas or to Transparency International rather than senior members of the force.
Transparency International Ireland CEO John Devitt has said the dismissal of Mr Connolly sends out the wrong message. 
Mr Devitt said it has been known for some time that there was a transcript of a conversation between Mr Connolly and Sgt McCabe.
He said it leaves gardaí without an internal avenue to report malpractice.
Mr Devitt said it was important that the Government now changed legislation in order to allow gardaí an avenue through which they can report concerns in confidence.
The Government last night published the terms of reference for an inquiry into reports of unlawful surveillance of the Garda Síochána Ombudsman Commission (GSOC).
The inquiry is to be chaired by retired Judge John Cooke, who is being asked to identify the sequence of events leading to GSOC's decision to launch its own investigation.
He will be able to assess any evidence of an alleged security breach and make recommendations to improve security arrangements.
He can also take oral evidence from witnesses, if he wishes to do so.
Mr Devitt said there are legitimate concerns about the way the GSOC controversy is being managed by the minister.
He said it does not instil confidence in the process if Mr Shatter is setting the terms of reference of the inquiry.