Ukrainian President Viktor Yanukovych announced a "truce" and the start of direct talks with the opposition after holding private talks with three anti-government leaders.
"Based on the results of the meeting, the sides announced a truce and the start of a negotiations process aimed at ending the bloodshed (and) stabilising the situation in the country for the benefit of civil peace," a statement on the president's website said.
The talks included opposition leader Vitali Klitschko.
Earlier, Mr Yanukovych replaced the head of the army's general staff after announcing a new "anti-terror" operation.
A brief presidential statement said Mr Yanukovych was appointing Yury Ilyin, who had been head of the navy, in place of Volodymyr Zamana but provided no explanation for the decision.
Ukraine's security service said the "anti-terror" operation will see security agencies will work with the ministry of defence to strengthen state borders and maintain public order.
In a statement it added that over the past few days about 1,500 firearms and 100,000 bullets had ended up in the hands of "criminals".
European Union Commission President José Manuel Barroso has called on all sides in Ukraine to immediately put an end to violence and engage in meaningful dialogue.
The EU is to hold an extraordinary meeting of foreign ministers tomorrow to discuss the crisis.
A day and night of bloody clashes in Kiev left at least 26 people dead and saw flames engulf Independence Square, which resembled a war zone.
The Interior Ministry said ten police officers were among the dead.
The United States has imposed visa bans on 20 senior Ukrainian government officials believed to be responsible for the crackdown against protesters, a senior State Department official said.

Earlier, President Barack Obama warned that there would be consequences if violence continues in Ukraine.
He said the Ukrainian military should not step into a situation that could be resolved by civilians.
Mr Obama said he condemned the violence in Kiev in the strongest possible terms, and believes a peaceful resolution is still possible.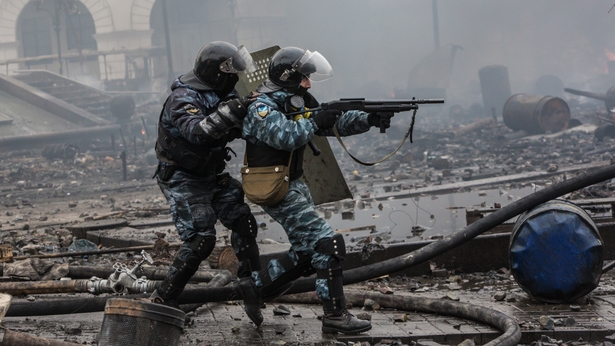 Kiev monastery a sanctuary for protesters
British Prime Minister David Cameron has called on the Ukrainian authorities to pull back security forces surrounding protesters in Kiev.
"I am deeply concerned by the scenes we are witnessing inUkraine," Mr Cameron said in a statement released by his office.
"The violence on all sides is completely unacceptable and President Yanukovych has a particular responsibility to pullback government forces and de-escalate the situation.
"President Yanukovych should be under no doubt that the world is watching his actions and that those responsible for violence will be held accountable."
Germany and France also strongly condemned the violence, with French President Francois Hollande urging sanctions and German Chancellor Angela Merkel expressing solidarity with protesters.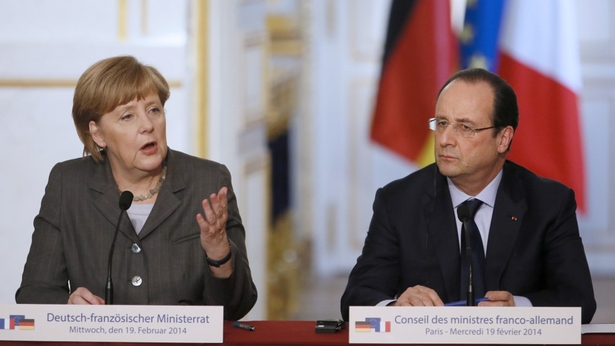 "There are unspeakable, unacceptable, intolerable acts being carried out in Ukraine," Mr Hollande said at a joint press conference in Paris.
Speaking of "violence, brutality and repression" of the highest order, Mr Hollande said both he and Ms Merkel condemned "all these acts and the brutality emanating from the state".
"All those who have committed these acts, all those who are preparing to commit these acts, must know that they will face sanctions," he said.
"We stand with the men and women suffering" in Kiev, Ms Merkel added.
Mr Hollande said the EU should make preparations so that sanctions could be imposed at tomorrow's meeting.
President Yanukovych said anti-government protesters had "crossed the limits" by taking to the streets to try to oust him from power.
In an address to the nation, he said opposition leaders had disregarded the principle of democracy.
He added: "We obtain power through elections and not on the street ... they have crossed the limits by calling for people to take up arms.
"It is a flagrant violation of the law and those who are responsible will face justice."
Independence Square has been the heart of anti-government protests for the past three months since the president abandoned an EU deal in favour of closer ties to Russia.
Moscow has demanded that Ukrainian opposition leaders "stop the bloodshed" in Kiev and said Russia will use all its influence to bring peace to its "friendly brother state".
"We will use all our influence in order for peace and calm to reign," a spokesperson for the foreign ministry said.
Russia has not provided any detail about what potential steps it may take.
The violence surged after the crisis appeared to have abated in recent days with concessions from both sides.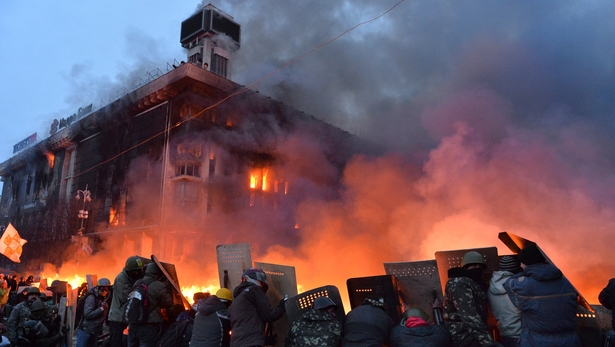 Mr Yanukovych had granted amnesty to protesters, who in exchange vacated public buildings they had occupied.
However, thousands of protesters rallied outside parliament yesterday to press politicians to strip Mr Yanukovych of his powers in a demonstration that slid into all-out clashes.
Mr Yanukovych accused the opposition of calling "radicals on Maidan to an armed struggle" before politicians "could approve laws that would change Ukraine".
Maidan is the local name for Independence Square.
"They blocked parliament ... and demanded all the power for the opposition, and immediately.
"Without a mandate from the people, these so-called politicians tried to take power by violating the constitution through violence and murder."
Mr Yanukovych said the opposition must either "distance itself from radicals" or "admit that it supports them".
"In that case we will speak to them differently."
Despite western demands for restraint and dialogue, the state security service set a deadline for the demonstrators to end disorder or face "tough measures".
Police then advanced slowly into the square.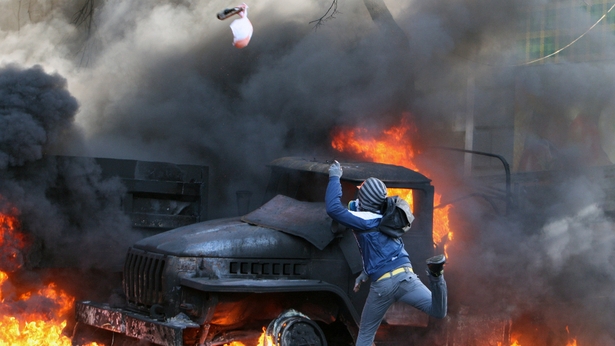 Protesters responded with petrol bombs, fireworks and stones.
Police threw stun grenades at the protesters separated from them by a line of burning tents, tyres and wood.
Opposition leader Vitaly Klitschko reacted defiantly, telling supporters on the square: "We will not leave here. This is an island of freedom. We will defend it."
The riot police moved in hours after Russia gave Ukraine $2 billion (€1.45bn) in aid for its crippled economy, which it had been holding back to demand decisive action to crush the protests.
Western powers have warned Mr Yanukovych against trying to smash the pro-European demonstrations, urging him to turn back to Europe and the prospect of an IMF-supported economic recovery, while Russia accused them of meddling.
Anti-government protesters seized government buildings in a few cities in the western part of the country, local media and the police said.
Biden urges Yanukovych to pull back forces
Vice President Joe Biden called Mr Yanukovych yesterday to express grave US concern at the violence in Kiev.
He urged him to pull back government forces and exercise maximum restraint.
Mr Biden made clear to Mr Yanukovych that the United States condemns violence by any side, "but that the government bears special responsibility to de-escalate the situation," a White House statement said.
"The vice president further underscored the urgency of immediate dialogue with opposition leaders to address protesters' legitimate grievances and to put forward serious proposals for political reform," according to the statement.
It said the United States is committed to supporting efforts to promote a peaceful resolution to the crisis in a way that "reflects the will and aspirations of the Ukrainian people".
Gallery: Unrest in Ukraine