Ukrainian police have advanced onto a central Kiev square occupied by protesters, after at least 18 people died in the worst day of violence in 12 weeks of demonstrations.
Protesters on Independence Square responded with petrol bombs, fireworks and stones.
The building used by anti-government protesters in the square as their headquarters is on fire, local television showed.

Television footage from the square showed several floors of the nine-storey Trade Union building were on fire with flames and smoke coming out of the windows.

Protest leaders called other demonstrators from the stage in the square to find ground sheets to save people who might need to escape from the building.
Police moved slowly forward hours into the square after the state security service set a deadline for the demonstrators to end disorder or face "tough measures".
Television footage showed the police throwing stun grenades at the protesters separated from them by a line of burning tents, tyres and wood.
Thousands of protesters remain in the square listening to speeches from their leaders and singing Ukraine's national anthem.
Western powers warned President Viktor Yanukovych against trying to smash the pro-European demonstrations.
Opposition leaders Vitali Klitschko and Arseny Yatsenyuk are at Mr Yanukovych's office for late night talks.

Earlier, Mr Klitschko urged women and children to leave the central square "to avoid further victims".
A police spokeswoman said 11 civilians and seven policemen died in several hours of clashes, some from gunshot wounds, in what was also Ukraine's bloodiest day since it gained independence from the Soviet Union in 1991.
Police said 39 policemen had sustained gunshot wounds and over 100 others were injured.
Speaking from a stage in the square as the assault was launched Mr Klitschko declared that protesters were "not going anywhere".
"This a small island of freedom," the former heavyweight boxer said.
US Vice President Joe Biden has urged Mr Yanukovych to exercise maximum restraint and pull back government forces.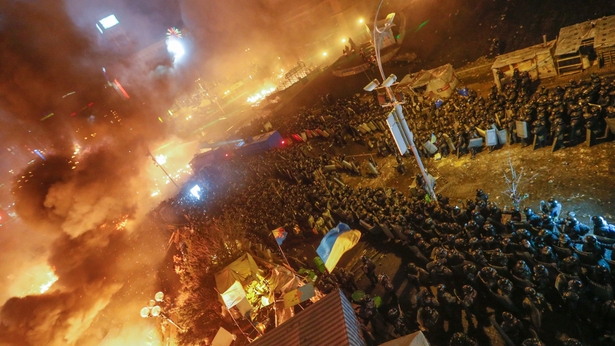 Meanwhile, anti-government protesters in the western Ukrainian city of Lviv have seized the regional administration building and police headquarters.
Around 500 demonstrators stormed the regional administration after bombarding it with stones before taking the control of the local police headquarters.
Protesters have torched a police station and seized the prosecutor's office in the western city of Ternopil.
UN Secretary General Ban Ki-moon has called for restraint and dialogue.
His spokesman Martin Nesirky said Mr Ban was "extremely concerned" over the resumption of violence and "reiterates his appeal to all concerned to act with restraint in order to avoid any further violence and urges the renewal of genuine dialogue between all parties".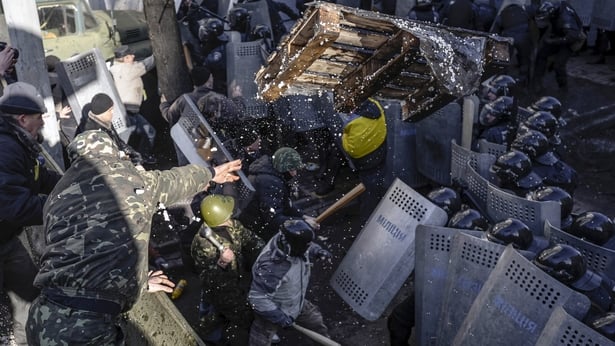 Ukrainian opposition leader Vitaly Klitschko earlier urged President Yanukovych to take riot police off the streets to head off further "conflict in society".
"I am appealing to the president. Take the Berkut (riot police) and interior forces off the streets.
"Do this and it will provide a way out. It will be the decision of a real man," Mr Klitschko said speaking to journalists inside parliament.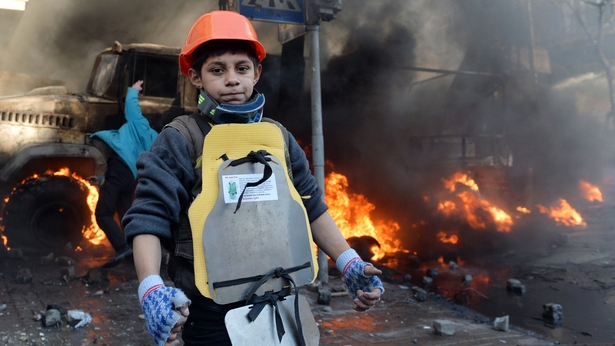 Mr Yanukovych has been battling an opposition-led street revolt since he walked away from a trade pact with the European Union in November and opted instead for forging closer economic ties with Russia, Ukraine's Soviet-era master.
Opposition leaders are pressing him to accept curbs on his powers that would allow them to form an independent government to end the street unrest, now in its third month, and to save the economy from collapse.
EU minister shocked at Kiev scenes
The European Union's enlargement commissioner said Ukraine's acting prime minister had assured him that security forces would do everything to avoid using guns against anti-government protesters after a day of violent clashes.
Commissioner Stefan Fuele told a public event in Brussels that he had been shaken by pictures of clashes in Kiev.
"I was just on the phone with the acting prime minister, telling him that seeing the Berkut (riot) police with Kalashnikovs is a source of great concern, and he assured me that he himself and the authorities will do everything for those weapons to stay silent," the commissioner said.
"For the sake of the Ukrainians and for the sake of the future of that country, I will pray that he is right."
EU foreign policy chief Catherine Ashton, who has tried to broker a power-sharing transition in Ukraine, said she was deeply concerned about the escalating violence and casualties.

"I urge the leadership of Ukraine to address the root causes of the crisis," she said.
"Political leaders must now assume their shared responsibility to rebuild trust and create the conditions for an effective solution to the political crisis."
White House spokesman Jay Carney said Washington is appalled by the violence and urged Mr Yanukovych to restart a dialogue with opposition leaders.
"We continue to condemn street violence and excessive use of force by either side. Force will not resolve the crisis," Mr Carney told a briefing.

"To restore peace and stability, we urge President Yanukovych to de-escalate immediately the situation and end the confrontation" with protesters, he said.
"We also urge him to restart a dialogue with opposition leaders today."