More flooding misery is expected tomorrow in the UK, while a deadly winter storm has gripped the south eastern US.
Downpours of rain and strong winds are expected to engulf the south of Britain tomorrow.
The UK's Met Office has issued amber weather warnings for heavy rain in parts of south west England.
Meanwhile northern parts of Britain can expect snow as the band of rain hits cold air.
The Met Office said there would be a "multi-pronged attack" of wind, rain and snow striking the country tomorrow.
The heavy rain could lead to more flooding as downpours of up to 40mm could fall in just six hours, a spokesman said.
As well as surface water problems, the rain could also impact on already full to bursting rivers.
Meanwhile some coastal areas could be at risk as blustery conditions could bring large waves.
Met Office forecaster Steven Keates said coastal regions could see gusts of 112km/h.
Snow and ice storm hit US
A deadly winter storm gripped the south eastern United States yesterday, crippling travel, grounding flights and knocking out power to 363,000 customers.
The weather was blamed for at least 13 deaths in the region, including three people killed when an ambulance transporting a patient skidded off an icy road in Carlsbad, Texas.
Winter storm warnings and advisories were in place from Georgia up to Maine, and the powerful system could blanket the Atlantic Coast over the next two days with 30-46cm of snow, according to Jared Guyer, a meteorologist with the National Weather Service.
The Washington, DC, area awoke to its heaviest snowfall of the winter. The federal government was closed, along with school districts in the area.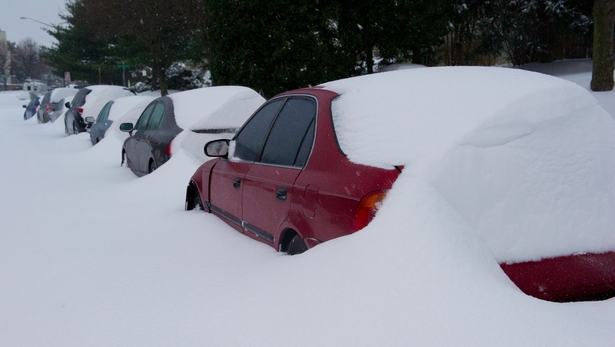 Washington's bus service was suspended, and residents were advised to stay home if possible rather than risk a commute through snow accumulations of as much as a foot throughout the area.

All runways at the city's Dulles and Reagan National airports were closed, as well as schools in Philadelphia, Baltimore and New York.

About 4,470 domestic and international flights were cancelled and another roughly 290 were delayed early this morning, according to flight-tracking website FlightAware.com.

The storm system, which has dumped heavy snow, sleet and freezing rain from eastern Texas to the Carolinas since Tuesday, was blamed for at least 13 deaths in the southern region and for knocking out power to hundreds of thousands of customers.
An ice storm warning was in effect for parts of central Georgia this morning, after about 2.5cm of ice had accumulated there and into South Carolina.
Schools across the south were closed again today.

Roughly 20cm of ice and heavy snow has now accumulated in parts of North and South Carolina, Mr Guyer said, possibly a historic level.

Traffic on interstate highways ground to a halt yesterday as the snowfall picked up quickly and fatal road accidents and weather-related deaths were reported in Mississippi, South Carolina, North Carolina and Georgia.

Governors declared states of emergencies from Louisiana to New Jersey.