ESB Networks has said 80,000 homes and businesses will remain without power overnight.
Electricity has been restored to 145,000 of the 260,000 customers left without power following yesterday's weather.
ESB Networks Managing Director Jerry O'Sullivan said some customers in the worst-affected areas such as west Cork and Kerry would have to wait a number of days before power is restored.
Crews are said to be facing a "mammoth task" to reconnect supply.
ESB staff are being assisted by colleagues in Northern Ireland to try to reconnect customers. 
Minister for the Environment, Community and Local Government Phil Hogan said the violent storm was one of the top five weather events in Ireland.
Mr Hogan said the initial €70m funding allocated for recent storm damage will be reassessed in light of yesterday's weather.
Speaking on RTÉ's News at One, he warned that Met Éireann is forecasting further difficult conditions over the next 48 hours.
He said: "We will continue to assess it and I will be giving an update to the Cabinet next Tuesday."
The minister praised service providers around the country who were "putting on the green jersey ... to restore services and clear trees in very difficult weather conditions".
There has been a call for coordinated action between Government departments to ensure damaged infrastructure is urgently repaired.
Chairman of the Joint Committee on Agriculture, Food and the Marine Andrew Doyle said members wanted procedures put in place to resolve any dispute over which department or agency is responsible for particular remedial works that needed to be carried out.
The National Emergency Coordination Group has met to discuss the aftermath of yesterday's storm.
Group chair Sean Hogan described the storm as the most extreme event so far in a winter of storms.
Speaking this afternoon, he said it left a trail of destruction behind it.
The primary objective is to get communities back functioning, to get roads open and to get electricity back to homes today and over the coming days, he said.
The National Emergency Coordination Group has met nine times since 3 February.
Winds wreak havoc
Winds with gusts of up to 170km/h damaged buildings and tore down trees, while road, rail, ferry, and air travel were disrupted.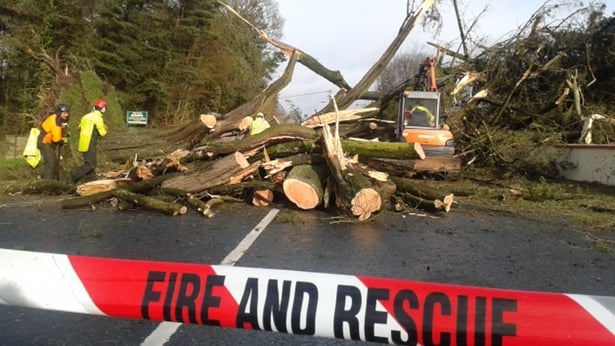 Fallen trees and debris are causing dangerous conditions on some roads, particularly in counties Limerick, Kerry, Clare, Laois and Kilkenny.
The M7 Dublin / Limerick Road will be closed until 7pm in both directions between Junction 25 and Junction 26 Nenagh to facilitate ESB repairs.
Iarnród Éireann says no trains are operating on the Tralee to Mallow line or the Limerick to Athenry route as a result of storm damage. Bus transfers are in place.
Limerick residents instructed to boil water
Limerick County Council has lifted precautionary Boil Water Notices at a number of locations throughout Co Limerick.
The local authority said earlier that following extensive power outages it is not in a position to guarantee that water supplies are treated to the standards of drinking water regulations.
However, boil water notices have since been lifted at the following locations:  Kilmallock, Caherconlish, Ballyneety, Murroe, Castleconnell, Patrickswell, Pallasgreen, Abbeyfeale, South West Regional and Newcastle West.
A Council spokesperson said: "The boil water notice affecting a number of locations has been lifted after power was restored and subsequent testing of water supplies demonstrated that the water was suitable for consumption.
"Public water supplies at a number of other locations throughout the county will be tested tomorrow morning with a view to lifting boil water notices there."
"The supply to the Limerick City and Environs area remains unaffected by the Boil Water Notice and continues to be safe for drinking," the spokesperson added.
The council said it was likely that the boil water notice will remain in place in other areas for a number of days.
Water supplies in Limerick City and suburbs are not affected by the notice.
Clare County Council provided water tankers in a number of locations following water shortages as a result of power outages.
Supplies will be restricted overnight in Shannon Town and Newmarket-on-Fergus.
Elsewhere, University Hospital Limerick has said it is attempting to clear as many beds as possible to cope with an increased demand for services.
Elective surgery has been cancelled for today.
In Kilkenny, a specialist contractor has been appointed by the GAA to clean up asbestos debris on the roads around the Nowlan Park Stadium and in houses and gardens affected.
Residents have been advised by the council not to clean up asbestos.
An information leaflet drop is to be carried out with Health Service Executive advice, however the HSE does not believe airborne asbestos is an issue given the wet and damp conditions.
Once the area has been cleaned, the old stadium roof will be stabilised and is likely to be removed fully. Traffic restrictions remain in place.
Emergencies were declared in several counties yesterday and Eircom reported more than 10,000 communications faults.
Around 100,000 Eircom customers are currently without service.
The worst affected-areas are in Limerick, Carlow, Cork and Tipperary.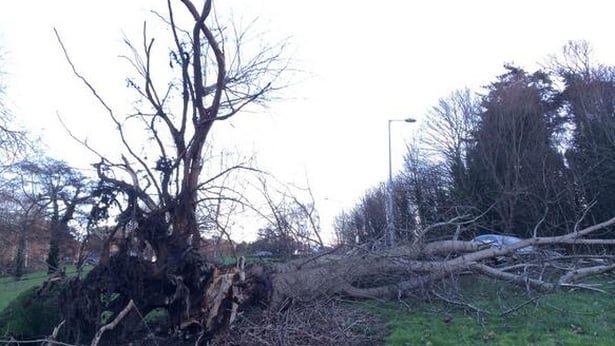 More bad weather is forecast
More bad weather is forecast for tomorrow with a lot of rain and wind expected and there are fresh concerns over flooding particularly in the south and east.
Met Éireann is forecasting up to 45mm of rain in Munster, Leinster, Connacht, Donegal, Monaghan and Cavan.
A snow and ice warning is also in place  for Connacht, Cavan, Monaghan, Donegal, Kildare, Longford, Westmeath and Meath.
Clare County Council has issued a flood and storm warning for the entire county in advance of more severe weather expected during the next 48 hours.
The local authority said that given the high tides, projected high rainfall and strong gale to storm force winds, there is a significant risk of river, coastal and tidal flooding.
New flood warning for Cork
Cork City may be facing its third flood in less than a fortnight tomorrow afternoon.
Cork City Council has issued a tidal flood alert for parts of the city centre. It is advising householders and businesses to take precautionary measures to protect their properties.
A predicted storm surge is due to coincide with high tide at around 5.30pm tomorrow, and the city council says flooding may arise in low-lying areas of the city. The council says the risk of flooding will be greatest between 4pm and 7pm.
It says areas most at risk include Infirmary Road, South Terrace, Trinity Bridge, Rutland Street, Sawmill Street, Cotter Street, Union Quay, Morrisons Quay, Proby's Quay, Crosses Green, Sharman Crawford Street, Wandesford Quay, Lavitts Quay, Kyrls Quay, Coal Quay and Lapps Quay.
It says other areas at potential risk are South Mall, Oliver Plunkett Street, Pembroke Street, Winthrop Street, Kennedy Quay, Centre Park Road, Monahan Road, Georges Quay, North Mall, Penrose Quay, and the low-lying areas of the City Centre.
Access to parts of the city centre will be restricted from half-past four tomorrow afternoon and many streets are likely to remain closed until at least 7pm.
Parking will also be restricted.
The situation may be exacerbated by a storm in which strong easterly winds are forecast to strengthen to gale force from around mid-day onwards. The storm is also likely to be accompanied by heavy rainfall, perhaps up to 25 milimetres.
Major damage in South Galway
Thousands of acres are under water in south Galway. 
More than 20 roads in an area around Gort are impassable and farmers have been moving livestock to higher ground and neighbouring sheds.
Locals say water levels are almost as high as those seen in 2009, when homes and businesses suffered extensive flooding. 
IFA Connacht region chairman Tom Turley has called for immediate remedial works to alleviate flooding.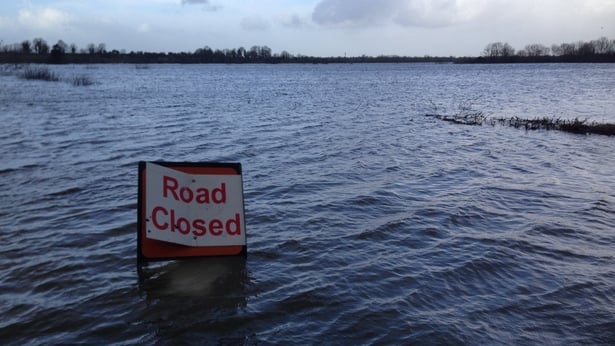 Insurance industry counting the cost
The representative body of the insurance industry, Insurance Ireland said claims from storms in December and January have cost €46m.
Non-Life manager, Michael Horan told RTÉ's Six One News that it will be around three weeks before details area available on the damage caused by yesterday's weather event.
Mr Horan said insurance companies allow for a certain amount of bad weather when calculating premiums and it was too early at this stage to estimate whether storm damage would result in any increase for customers.
St Vincent de Paul said its staff are focusing on providing assistance towards the cost of providing fuel for homes affected by the weather.
Head of Social Justice and Policy John-Mark McCafferty said the priority was ensuring people can be kept warm.
Speaking on RTÉ's News at One, Mr McCafferty said 90 bags of coal will be delivered to people in flood-affected areas of Limerick in the next few days.
He added that the organisation will also provide assistance to cover the energy costs of de-humidifiers, which are required in some homes.
Gallery: Storm Scenes
Send your weather images to yourphotos@rte.ie or via Twitter @rtenews