Bank of Ireland boss Richie Boucher has likened his bank's behaviour during the boom to a "good girl" at a "wild party".
Mr Boucher was speaking at a conference for CEOs hosted by employers group Ibec. 
When asked about his bank's property lending during the boom he said: "Obviously everyone did things to different degrees. But when there is a wild party even good girls get into trouble."
Mr Boucher said he understood why members of the public would be angry with banks. 
He said: "Even though the threat to solvency of the country has dissipated or gone probably there is still huge legacy of debt from banks that went bust that will take a long time to come back. That is why the taxes have gone up and services were cut."
He said it was a mantra in Bank of Ireland that the taxpayer would get its money back.
Ibec chief says income tax cut needed
Earlier the chief executive of Ibec has said the tax-cutting agenda now needs to be advanced to ensure confidence is brought back for consumers and the workforce.
Speaking on RTÉ's Morning Ireland ahead of his address to the Ibec CEO conference, Danny McCoy said he hoped Ireland will see its unemployment rate fall to 6% in the next three years.
He said cutting taxes was a key factor to get more people back at work, as well as loosening the burden on everybody else who had been working in the taxation system.
Mr McCoy said the demand for wage increases indicated that confidence was coming back.
"There are businesses doing well, particularly those who are exporting," Mr McCoy said.
"Up to half the companies expect that they will be paying pay increases in 2014, but half still need wage freezes.
"We can't have across-the-board wage demands, but we can certainly get disposable income increased by reducing those taxes."
Mr McCoy used his speech to the conference to call on the Government to cut income tax and adjust tax bands.
He said that income taxes are too high and should be cut in the next Budget.
The highest tax rate currently kicks in at just over €32,000, less than the average industrial wage.
Mr McCoy argued that tax cuts are a better way to give workers more disposable income, which can help to lift the economy and increase Government revenues.
He told delegates that pay rises now could undermine competitiveness and tax cuts are a better way to put money into employees' pockets.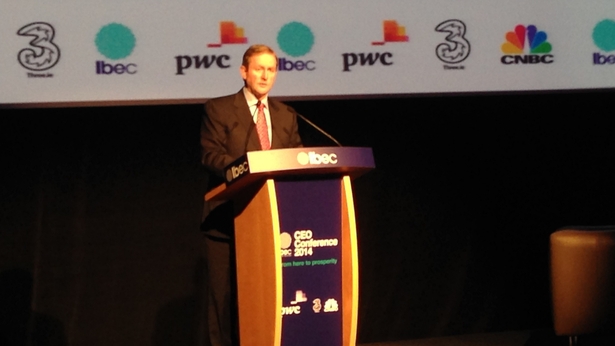 The Taoiseach has said it is the Government's priority to grow the economy so that it can deliver on promises on tax cuts.
Speaking at the Ibec conference, Enda Kenny said there cannot be a return to the boom and bust economics that preceded the crash.
Responding to Mr McCoy's call to cut taxes on workers, Mr Kenny said Budget preparations are under way and he had made it clear that income tax was a priority.
The Taoiseach said the rate at which people pay the higher rate of tax is too low.
He said there would be no return to the days of the Celtic Tiger when enterprise was sacrificed for greed.
The Taoiseach said the Irish economy has seen significant progress in the past year.
Ireland has reclaimed its reputation as a stable location for investment and jobs, he said.
Mr Kenny reaffirmed that the Government would eliminate the deficit by 2018.
He said he expected that every householder in mortgage arrears would have a sustainable solution put in place by the end of the year.