Russia has said its Sochi Olympics were as safe as any place in the West from militant attacks after Washington warned airports and some airlines that toothpaste tubes could be used to smuggle bomb-making materials onto a Russia-bound plane.
Russian forces are on high alert over threats by Islamist militant groups based in the nearby north Caucasus to attack the Winter games, which begin tomorrow.
Twin suicide bombings killed at least 34 people in December in Volgograd, some 700km northeast of Sochi.
Deputy Prime Minister Dmitry Kozak, speaking on the eve of the opening ceremony, told journalists in Sochi that Russian security services were working with colleagues from Europe and North America.
"We can guarantee the safety of people as well as any other government hosting any mass event," he said, speaking through a translator.
President Vladimir Putin, who launched a war to crush a rebellion in nearby Chechnya in 1999, has staked his reputation on the Games, which at around $50bn will be the most expensive in Olympic history.
Islamist guerrillas seeking an independent Islamic state in Chechnya and neighbouring regions of southern Russia, have aimed threats at the games, which they argue take place on land seized from Caucasus tribes in the 19th century.
Despite a "ring of steel" around venues and some 37,000 security personnel on alert, Russian forces fear a woman suspected of planning a suicide bombing may have slipped through.
However, security officials believe the risk of an attack is far greater elsewhere in Russia than in Sochi or the Caucasus mountain cluster nearby.
President Barack Obama has said he believed Sochi was safe, but behind the scenes there has been tension between Russian and US officials, including over concerns that the host nation might react with excessive force in the case of an attack and endanger civilian lives.
A senior US security official said yesterday Washington had issued a warning to airports and some airlines flying to Russia for the Olympics to watch for toothpaste tubes that could hold ingredients to make a bomb on a plane.
The official did not say why such a specific warning was being issued now. Airlines and airports have been aware for several years of the dangers of bombs being concocted on aircraft from liquids smuggled aboard and have strictly limited he carriage of all liquids and pastes by passengers.
Ban condemns LGBT attacks ahead of Sochi Games
In the first address by a United Nations secretary general to an International Olympic Committee session, Ban Ki-moon condemned discrimination and attacks on people based on their sexual orientation.
Speaking on the eve of the Sochi Games opening ceremony, Mr Ban said: "Hatred of any kind must have no place in the 21st century."
Russia, hosting a winter Games for the first time, has come under mounting criticism since the government passed an anti-gay propaganda law last year which critics say curtails rights of homosexuals and discriminates against them.
"We must all raise our voices against attacks on lesbian, gay, bisexual, transgender or intersex people," Mr Ban told the IOC session in the Black Sea resort.
"We must oppose the arrests, imprisonments and discriminatory restrictions they face."
Russian President Vladimir Putin has defended the law as protecting minors and has said homosexuals will not be discriminated against during the Sochi Olympics.
Mr Ban said sport had the power to further human rights but made no specific reference to the controversial law in Russia or the country itself.
"I know that Principle 6 of the Olympic Charter enshrines the IOC's opposition to any form of discrimination," he said.
"The United Nations stands strongly behind our own 'Free and Equal' campaign, and I look forward to working with the IOC, governments and other partners around the world to build societies of equality and tolerance."
Sochi Games officials have said protests to oppose the law had no place in the city during the Olympics.
Meanwhile, competition got under way at the games with qualifying for the men's snowboard slopestyle on sun-drenched slopes at the Rosa Khutor Extreme Park.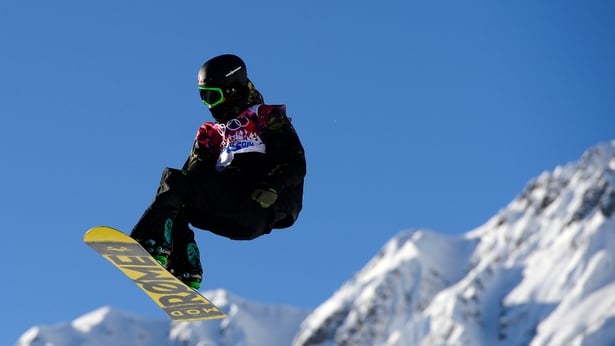 Games officials have been rushing to complete preparations in time but as Britain's Billy Morgan, the first athlete out the gate, came into the finish zone volunteers were still hammering poles into the ground to secure crash barriers.

Qualifying for three events are taking place today, the eve of the opening ceremony for the games.
Ireland's Seamus O'Connor has missed his first opportunity to qualify for the final of the snowboard slopestyle.
The 16-year-old was 13th of the 14 starters in his heat.
There were eight qualifiers from the two heats this morning but O'Connor will have one more chance to make it as he will take part in a repechage-style semi-final on Saturday.
Downhill skier Conor Lyne will be Ireland's flag bearer at the Parade of Nations during the opening ceremony.
The Parade of Nations will be held at the Olympic Stadium tomorrow.
Lyne will represent Ireland in the slalom and grand slalom, which starts on Wednesday 19 February.