Palestinian officials have criticised Israeli authorities over their decision to approve the construction of over 500 apartments in occupied East Jerusalem.
Settlements built there are considered illegal under international law.
Senior Palestinian official Hanan Ashrawi said the decision undermined fragile US-brokered peace talks.
She urged the international community to take legal action against Israel.
An Israeli municipality spokeswoman said the local planning committee had approved requests by private contractors for the construction work in the settlements of Har Homa, Neve Yaakov and Pisgat Zeev.
She said the initial plans for the new dwellings were approved years ago.
Har Homa and Pisgat Zeev are in one of the areas in the West Bank that Israel says it intends to keep in any future land-for-peace deal with the Palestinians.
Yesterday, Israeli authorities demolished three Palestinian homes they said were built without permits in occupied East Jerusalem, displacing five families.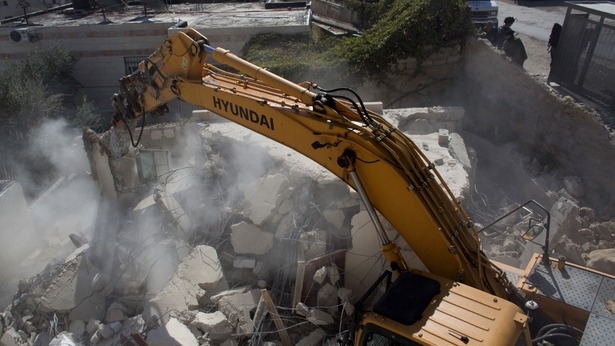 Ms Ashrawi, a senior member of the Palestine Liberation Organization, called the moves a "deliberate provocation of the Palestinians to drive them to leave the negotiations".
"Israel is not only capable of sabotaging the talks, but it is flagrantly destroying the chances of peace and stability throughout the region," she said in a statement.
Three weeks ago, Israel published tenders for 1,400 new homes in the West Bank and East Jerusalem.
Anti-settlement watchdog Peace Now said at that time that Israel had announced plans for 5,349 new homes in those two areas since the peace talks restarted.