Syrian army helicopters have carried out new raids over the northern city of Aleppo, dropping explosive-packed barrel bombs as they press a punishing aerial assault.
The Syrian Observatory for Human Rights reported multiple barrel bomb attacks across rebel-held parts of the city, where 30 people were killed in similar raids yesterday.
The Aleppo Media Centre said one of the raids hit a school in the Masakan Hanano neighbourhood, and that children were among those killed.
There were no immediate details on the number of dead in today's raids, which came after another round of barrel bomb attacks killed 14 men, 13 children and three women yesterday.
Over the weekend, the observatory said 85 people were killed in a single day of air strikes and barrel bomb attacks on Saturday.
The fierce air campaign has prompted an exodus of civilians from rebel-held areas in the east and north of Aleppo.
But fighting between rebels and jihadists from the Islamic State of Iraq and the Levant throughout Aleppo province has left those fleeing with few escape routes.
The aerial assault comes as regime forces on the ground try to capture districts in the east and north of the city.
In recent months, the army has recaptured some territory in Aleppo province, including around Aleppo international airport.
Syria's second city and one time commercial hub has been divided since a major rebel offensive in the summer of 2012, and much of the city's historic Old Town has been demolished in the fighting.
Syria plans to move on chemical weapons - Russia
Russia has said Syria plans to send a large shipment of toxic agents out of the country this month.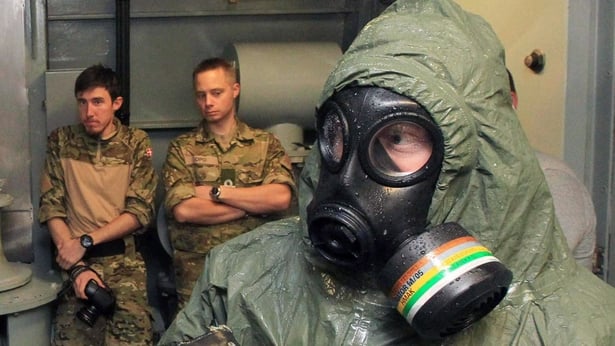 Deputy Foreign Minister Gennady Gatilov said Syria is prepared to complete the removal process by 1 March.
"Literally yesterday the Syrians announced that the removal of a large shipment of chemical substances is planned in February.
"They are ready to complete this process by March 1," state-run Russia news agency RIA quoted Mr Gatilov as saying.
The operation to dispose of Syria's chemical stockpile under a deal brokered by Russia and the United States is far behind schedule and a deadline for sending all toxic agents out of Syria this week will be missed.
US officials accused Damascus of dragging its feet and US Secretary of State John Kerry asked Russian Foreign Minister Sergei Lavrov last Friday to put pressure on Bashar al-Assad's government to accelerate the operation.
Russia, the government's most powerful backer during a nearly three-year-old civil conflict in Syria, has said Western concerns are overblown and rejected accusations that the delays are deliberate, citing security and logistical issues.
"There really are difficulties linked to the need to provide security for this operation," Mr Gatilov said.
Meanwhile, the Syrian government will attend the next round of peace talks with the opposition, set to begin on 10 February in Geneva.
Russian Deputy Foreign Minister Mikhail Bogdanov said: "We have no doubt that the government delegation will take part in the second round of international talks in Geneva."
He was speaking before talks in Moscow between Russian officials and Syrian opposition leader Ahmed Jarba.