Tánaiste Eamonn Gilmore has sought to reassure women due to give birth following revelations in an RTÉ investigation into maternity care at the Midland regional Hospital, Portlaoise.
Mr Gilmore said that what had happened in Portlaoise should not have occurred.
He reiterated that Ireland is among the safest countries in the world to give birth.
Tánaiste Gilmore said that the Irish maternity service was very good and very safe.
Mr Gilmore said the Chief Medical officer had been asked to report to the Minister for Health on what had happened in Midlands Regional Hospital, Portlaoise and on what steps now needed to be taken.
The hospital has now made contact with the family of the fourth baby who died in their care and who featured in this week's RTÉ investigation.
Authorities had faced criticism, after it was revealed that not all of the parents involved had been contacted.
A phone line has been set up at the Midland Regional Hospital Portlaoise to deal with concerns arising from Thursday night's 'Fatal Failures' programme by RTÉ's Investigation Unit.
The documentary looked at the deaths of four babies over a six-year period at the hospital.
The helpline (057-8696076) will be open from 9am to 5pm and tomorrow.
Protests at closure of Mount Carmel Hospital
There were protests outside and inside Mount Carmel hospital this afternoon.
Around 50 people protested outside the front door of the hospital calling for it to be kept open and taken into public ownership.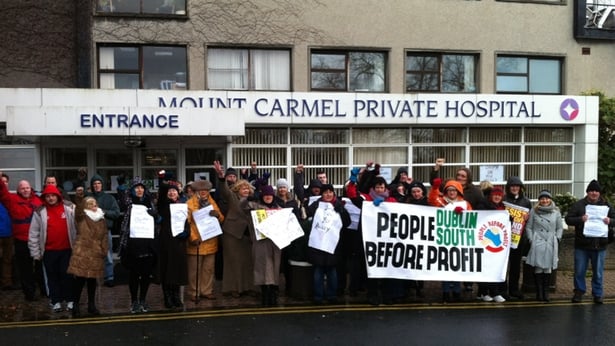 Above them a handful of staff continued a sit in protest in a room on the second floor at the front of the building.
The staff say they want answers as to why the hospital is closing at such short notice leaving them with no jobs and only statutory redundancy payments.
The hospital is still operating as a small number of women and their babies are still on the maternity ward receiving post natal care.
Once they are discharged the hospital will close and all employment will cease, possibly by the middle of next week.
The protest outside finished at around 4pm and the sit in protest a short time later as staff left the building.
Some staff will be back on Monday to work their last days at the hospital
Mr Gilmore said the Government was satisfied there was sufficient capacity in the maternity services in Dublin following the closure of Mount Carmel.