International mediator Lakhdar Brahimi has said the Syrian parties are still discussing how women and children can leave the Old City of Homs.
However, he said there had been no decision on allowing access for an aid convoy into the besieged city.
Mr Brahimi, addressing a news conference after meeting both sides, said there was an apparent will to continue the negotiations at the UN headquarters in Geneva.
The international mediator also said he never expected any miracle to end the nearly three-year war.
"I told you yesterday that there was an agreement by the government that women and children can come out of Old City in Homs. I think they are still discussing how that can be done," Mr Brahimi said.
"I think that the government is willing to make it happen, but it is not easy because there are snipers and there are all sorts of problems.
"Unfortunately there is no agreement on a ceasefire or the alleviation of the level of violence practised in Syria."
Earlier, the Red Cross said no concrete steps have been taken to evacuate women and children or provide aid to the city.
"Until today noon, there has been no concrete step taken for any operation of this type in Homs Old City," said Robert Mardini, head of operations for the Middle East at the International Committee of the Red Cross.
The city has been under siege for almost 600 days, with people getting by on the barest of supplies, as the city is hit by shells on a daily basis.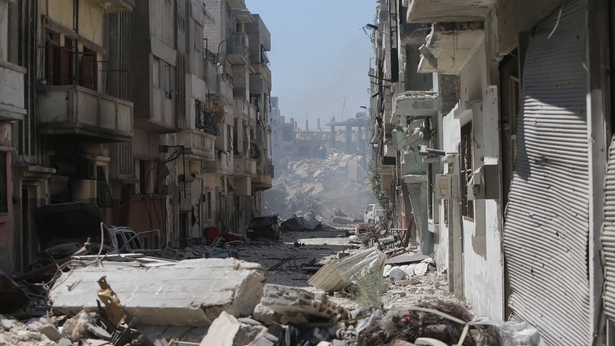 Forced evacuations can breach the laws of war, notably the Geneva Conventions overseen by the ICRC.
"In no way should anybody be forcing civilians to leave," said Mr Mardini.
"We know from our experience that people will not wish to leave their homes, their personal belongings," he added, saying aid agencies should be allowed in to assess needs.
"There won't be any quick wins. We should be under no illusion that this will solve the problem. And access is not a one-off, where you get in with some food parcels and medical aid."
The ICRC has not been into Homs since November 2012, Mr Mardini said.
He was unable to confirm opposition claims that a Red Crescent convoy was standing by.
Unicef Ireland director Peter Power earlier said people trapped in the city are living "from hand to mouth in appalling conditions".
Speaking on RTÉ's Morning Ireland, Mr Power said the next step would be the creation of a humanitarian corridor to deliver vital aid to those still inside.
He said Homs had been obliterated by the civil war.
Brought together by the United Nations, Russia and the United States, the two sides have been meeting in the biggest diplomatic push yet to stem Syria's bloodshed.
Erupting after the regime cracked down on protests inspired by the Arab Spring, the conflict has claimed more than 130,000 lives and forced millions from their homes.
Syrian opposition delegates rejected a declaration of principles for negotiations from the government that did not mention a transition of power.
The "declaration of basic principles" said Syrians would choose a political system without "imposed formulas" from abroad.
This was an apparent reference to Western and regional demands that President Bashar al-Assad step down and hand power to a transitional government.
The regime has ruled out discussions of Mr Assad leaving power.