Ireland's five main city councils collected almost €46 million from parking in 2013.
However, it is estimated that up to €115m is taken in annually from parking by all local authorities in towns and villages all over Ireland.
Figures obtained by RTÉ News show that Dublin City Council took in nearly €30m from parking, with €4.3m collected from clamping 56,000 vehicles.
Merrion Square West was Dublin's clamping black spot, with Mespil Road and Pearse Street being the next most common places to be clamped.
In Cork, €9m was generated from parking, while nearly €3.5m was collected in Galway, and €4m in Limerick and Waterford combined.
Retail Grocery Dairy and Allied Trades Association (RGDATA) Director General Tara Buckley said businesses are afraid that "over-zealous driving regimes are driving people away from town centres all over the country".
Dublin City Council Parking Enforcement Officer Eithne Gibbons said parking management is not just about raising revenue.
She said: "The management of parking is very important in a busy urban centre like Dublin.
"People drive into the city expecting to be able to get near to where they want to conduct their business and as part of the parking regime we try to ensure that there are spaces when they arrive in to the city," she added.
Ms Gibbons said if there was no traffic management plan "it would just be mayhem altogether" as traffic would not move in the city, there would be a limited availability of spaces and the turnover for businesses would be affected.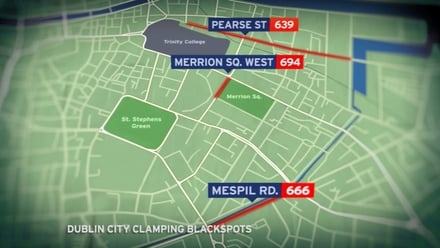 Cork City Council's main income stream was from high rise car parks, which generated €3.4m. Parking discs generated €2.9m and €4.7m was paid to run parking services.
The remaining €4.2m went back into the council's budget. Its pay by phone service generated €420,000 and the company which runs that was paid just under €65,000.
Galway City Council brought in €3.4m in revenue from car parking, €100,000 more than in 2012, and spent €1.2m on running the service.
Limerick City Council generated €1.76m from parking last year, which is an increase of €100,000 compared to the previous year and spent €1.6m running the service in 2013.
Last year, Waterford City Council generated €2.25m, €1.7m from parking fees and €527,000 in fines, and spent €1m on running the service.
Ms Buckley said: "We need to be sure that parking management is not just about revenue generation for councils."
She added that RGDATA has no problem with good traffic management regimes but there needs to be "uniformity" between local authorities and the way they run their services.
"Wherever you go in Ireland you should be able to know what the parking regime is. It is different everywhere".
Top Ten Parking Black spots in Dublin
2013
1 Merrion Square West
2 Mespil Road
3 Pearse Street
4 Dominic Street Lwr
5 Ormond Quay Upr
6 Jervis Street
7 Ranelagh
8 Burlington Road
9 Rathmines Road Lwr
10 Wellington Quay
2012
1 Dominick Street
2 Ranelagh
3 Mespil Road
4 D'Olier Street
5 Rathmines Road Lwr
6 Pearse Street
7 Merrion Square West
8 Jervis Street
9 South Circular Road
10 Waterloo Road
2011
1 Dominic Street
2 Jervis Street
3 Noel Purcell Walk
4 Ranelagh
5 Clarendon Street
6 South Circular Road
7 Mespil Road
8 Wolfe Tone Street
9 Ormond Quay Upr
10 Wellington Quay