The military pension records of those involved in the historic events of the 1916 Rising, the War of Independence and Civil War are being released online for the first time.
The Military Service (1916-1923) Pensions Collection (MSPC) is described by Minister for Defence Alan Shatter as "the single most important archival collection relating to Ireland's revolutionary period."
"The collection records the personal commitment and sacrifice by those men and women who shouldered the task of gaining independence for this country," he added.
The collection, which is housed at Cathal Brugha Barracks in Dublin, contains almost 300,000 files, relating to some 80,000 individuals.
The files relate in the main to applications by individuals and/or their dependents for the award of pension and gratuities.
These were for veterans who served as members of the Irish Volunteers, the Irish Citizen Army, the Irish Republican Army, Cumann na mBan, the National Army/Defence Forces and kindred named organisations on active service.
They were also for casualties or those wounded while on duty during the period from April and May 1916 through to 30 September 1923.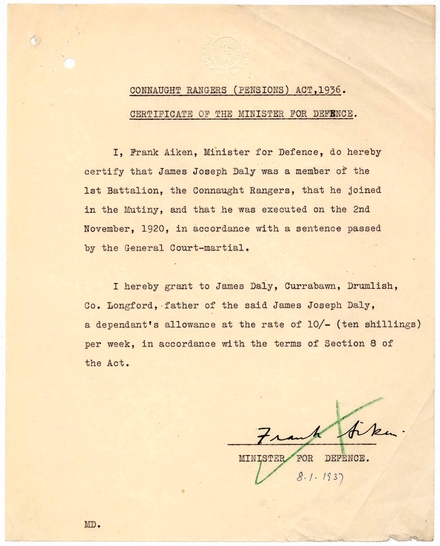 The initial online release of 452,000 scanned images includes the complete files of 3,200 individuals, of whom 2,400 are veterans of Easter Week 1916.
A range of other administration and departmental files are also being released to add context to the collection.
Eunan O'Halpin, Professor of Contemporary Irish History at Trinity College Dublin and a member of the project's Academic Advisory Committee, described it as "a groundbreaking initiative".
"The records constitute an astonishingly powerful and widely accessible means by which individuals, families, communities and localities can explore their particular histories within the wider context of the individual era," he said.
Project manager Patrick Brennan said today's online release of records at www.militaryarchives.ie was "just a fraction of what will follow in the period leading up to 2016".