Minister for Health James Reilly has said it is clear that 2014 will be a very challenging year for health services, perhaps the most challenging year to date.
However, he said despite the challenges services have faced up to now, it is important to reflect on the significant progress that has been made.
Speaking at the Joint Committee on Health and Children, Mr Reilly said that chief executives are currently being recruited for the hospital groups.
He said interviews for the posts are ongoing.
Mr Reilly also said he has received a draft of the white paper on universal health insurance and hopes to publish it very shortly.
The minister said universal health insurance is fundamental to the reform of Ireland's health services.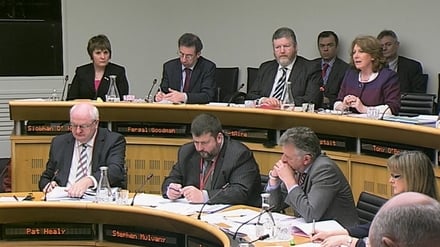 Separately, Mr Reilly welcomed reports this morning that pharmacists are becoming much more competitive in terms of the mark-up they are applying.
He said that the Government has made good progress on addressing the costs of drugs and medicines.
The minister said the country now has a robust system of reference pricing and generic substitution and that the Government has already reduced the cost of some types of drugs by 70%.
He said more reductions will follow this year.
Services maintained or increased last year - HSE chief
Meanwhile, HSE Director General Tony O'Brien said the HSE maintained or increased levels of service activity in the first 11 months of 2013 compared to 2012.
Also speaking at the committee, he said the overall waiting list trend seen in the first half of the year had, by the end of November, been reversed.
He said there was a 5% reduction in the total number of patients waiting for admission compared to July.
He said emergency admissions for the 11 months up to November numbered over 350,000, broadly in line with the previous year.
A total of 945,836 elective admissions were carried out in acute hospitals in those months.
Mr Reilly also said he has asked the HSE to put together a review group to see how the Government can best meet the needs of people who have long-term conditions.
He said in relation to discretionary medical cards the reality has been that no medical condition ever entitled anyone to a medical card, but it was by reason of financial hardship.
Mr Reilly said it was very clear that illnesses and conditions create financial hardship for patients.