Northern Ireland's political leaders have published a draft agreement on outstanding peace process issues only hours after parties failed to reach consensus on the proposals.
The stalled blueprint for dealing with divisive problems around flags, parades and the legacy of the Troubles was drawn up by former US diplomat Richard Haass.
At his 5am news conference in Belfast before departing for his home in the United States, Dr Haass suggested that the power-sharing administration would publish his proposals.
The British and Irish governments later backed the idea.
The 40-page document sets out the measures Dr Haass recommended to address three contentious issues - Flags, Parades and How to Deal with the Past.
The Haass proposals on parading include:
Devolving responsibility for parading issues from the Northern Ireland Office to the Stormont power-sharing administration.
Establishing a new seven-member body, a replacement for the Parades Commission, to adjudicate on disputed parades.
Setting up a new body to receive applications for the running of Parades, Commemorations and Protests.
Giving emphasis to mediation and dialogue.
Establishing a code of conduct for parades, commemorations and protests.
Dr Haass recommends a series of initiatives on how to deal with the Legacy of The Troubles, with emphasis given to the needs of victims.
A new Historical Investigations Unit should be established to take over functions currently carried out by the Historical Enquiries Team, a unit of the PSNI and the Office of the Police Ombudsman of Northern Ireland.
A new Independent Commission for Information Retrieval would be set up and those providing information, in good faith, to the organisation could be offered limited immunity.
Families of victims would retain the right to decide whether they wish to avail of the services of the ICIR.
The Northern Ireland Executive would establish an archive to gather and store information and personal accounts linked to The Troubles
The Northern Ireland Executive would set up an Implementation and Reconciliation Group, heading by a respected individual to monitor the performance of the new bodies.
It would have an advisory role, suggesting how to tackle issues like sectarianism.
And it would have links with a new group of suitably qualified academics who would be charged with creating a factual chronology of The Troubles
At different stages in recent weeks, Dr Haass said the issue of flags proved the most difficult challenge for him.
In earlier drafts various ideas were floated only to be dismissed by the delegations. These included developing a new flag for Northern Ireland.
In what was his seventh draft of proposals, Dr Haass made one key recommendation
The establishment of a commission to research and draft a report on issues related to Culture and Identity.
The commission would complete its work within a 15-month timeframe. Seven of the fifteen members would be appointed by the main parties in the Stormont power-sharing Executive and the chairman would be a person of international standing.
At his news conference this morning, Dr Haass predicted there would be extensive support for his proposals if the document were made public. He also said that his suggestions represent a much better option that the current situation.
ust one of the five parties, Sinn Féin, came out in favour of the overall Haass package of recommendations - party president Gerry Adams said the party's Ard Comhairle would be recommended to accept it.
Alliance welcomed the proposed measures on The Past but felt not enough was being recommended in relation to Flags and Parades.
The SDLP gave it broad approval and will be bringing it for discussion with its own party organisation. The Ulster Unionist leader Mike Nesbitt said he wasn't prepared to give his own views about it until his colleagues have time to consider it.
The DUP welcomed some of the recommendations but has issues with a number of key proposals.
The Haass negotiations were the first occasion that Northern Ireland's five main parties sought to resolve difficult political issues, without an involvement from the British and Irish governments.
It is conceivable that representatives of the parties in the failed talks will resurrect their negotiations and seek to reach agreements, based on the Haass template.
Mr Robinson said areas of agreement reached in political discussions chaired by Dr Richard Haass should not be let unravel.
The DUP leader also backed a suggestion from Dr Haass that the five political parties involved set up a working group to try to resolve issues still in dispute.
Earlier this morning, Dr Haass, ended his role as facilitator of negotiations without the deal that he had recently described as doable and desirable.
Taoiseach Enda Kenny has said the Government stands ready to work with the Stormont Executive and the British government to support further efforts to achieve greater peace in Northern Ireland.
Dr Haass and his assistant Professor Meghan O'Sullivan reported progress on some of the issues and urged the parties to work on trying to reach agreement.
Mr Kenny said he hoped the significant effort that had been put into the talks could become the platform for a renewed drive to secure an accord.
Tánaiste Eamon Gilmore described the outcome as not a step back but rather a step not yet taken.
British Prime Minister David Cameron said the talks had identified much common ground that would provide a basis for continued discussions.
Northern Ireland Secretary Theresa Villiers said she was disappointed with the outcome, but said it should not be seen as the end of the road.
She said she hoped the parties would continue to work to reach agreement.
After the meeting, Dr Haass said he had not given up hope that a deal would eventually be reached.
Dr Haass said a working group made up of representatives of the five parties in Stormont's power-sharing executive would now be set up to try and find another way to build on "significant progress" that had been achieved.
"Yes it would have been nice to come out here tonight and say we have got all five parties completely signed on to the text, we are not there," Dr Haass said.
The former US diplomat was commissioned by First Minister Peter Robinson and Deputy First Minister Martin McGuinness to chair the six-month process.
Dr Haass said he believed there was a prospect that all the parties would either endorse all, or significant parts of his document in the future.
He urged Mr Robinson and Mr McGuinness to make the details of the final document public so people could make up their own minds.
He denied the process had been a failure.
"Success should not be measured by what we report to you tonight or what the party leaders report tonight - I would ask you to judge the success in six months, in a year, 18 months, in two years, that would give a much more realistic definition or yardstick of what constitutes success," he said.
"What I believe what we have done is laid down solid enough foundations stones."
Parties react to proposals
Sinn Féin President Gerry Adams signalled his party's willingness to strike a full deal and said he would be urging the party's executive to endorse it.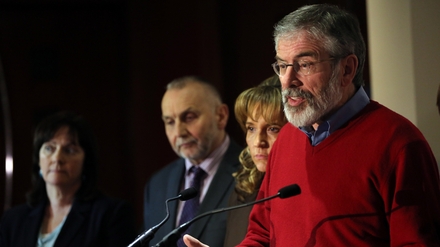 He said the proposals presented by Dr Haass represented a "compromise position" and provided the basis for agreement.
Mr Adams insisted talks could not continue forever and at some point parties had to "call it".
He said if there was no progress from this point, he would be seeking an urgent meeting with the British and Irish governments to call for the production of a road map towards resolution.
DUP negotiator Jeffrey Donaldson said progress had been made, but that a number of difficulties remained.
"We do not have an agreement this evening, but we are committed to continuing this work beyond now in dialogue with others to try and resolve the outstanding issues that need to be addressed," he said.
"We owe that to the people of Northern Ireland, especially to the innocent victims of terrorism who have suffered so much over the decades."
Unionists have indicated concerns with some of the language used and claim too much focus has been placed on killings perpetrated by state forces.
UUP leader Mike Nesbitt said he had an opinion on the document, but would not make it public until his party had the chance to examine the proposals.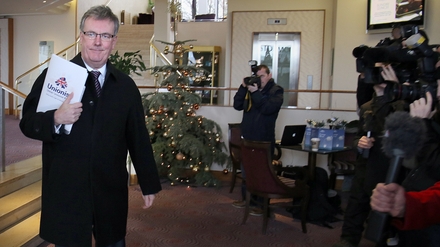 "We will have an honest debate and hopefully form a final opinion at the end of that debate," he said.
SDLP leader Alasdair McDonnell said "bigger and better solutions" were needed on some aspects, but said he would be recommending that his party give a general endorsement to what had been proposed.
"I am recommending general endorsement because of the strengths in the Haass/O'Sullivan proposals, most in evidence on how to deal with the past," he said.
"I have always said that the first test of progress must be comprehensive proposals to address the past. That is the biggest strength of Haass/O'Sullivan."
Alliance Party deputy leader Naomi Long criticised proposals on parades and flags, but she also said great work had been done on the issue of the past.
"We have seen a huge sea change in the level of political agreement which has exceeded public expectation, particularly in delivering for the victims and the reconciliation process," said the East Belfast MP.